This make just look like an ordinary toilet, but it's actually the bane of my existence and has been for many years. I still remember when it entered our home after the tank on the previous toilet cracked. I had been excited at the time. Not only did we upgrade to a brand new low-flow toilet; we also used the replacement as an excuse to redo the entire bathroom. With wood accents, cheery peach paint and white trim, I loved the result, and my new sink and toilet too.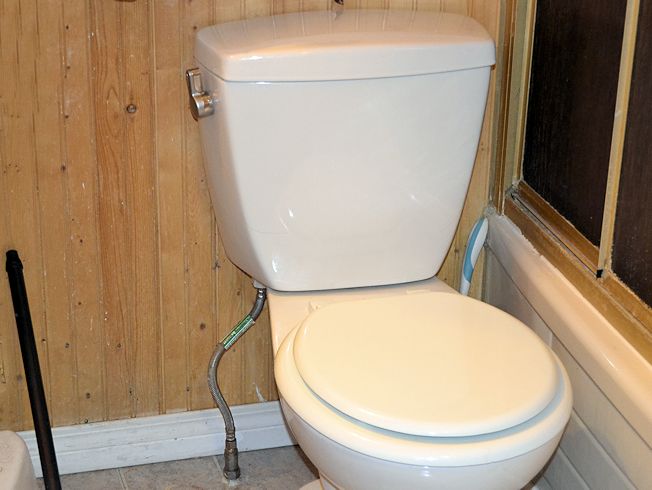 And then the nightmare began. To my great surprise, I learned that a low-flow toilet, or at least the one we had installed in our bathroom, was terrible. It often needed to be flushed multiple times almost immediately after being installed, and once both boys were potty trained…well, it got even worse. Combine an overzealous child, a roll of toilet paper and a low-flow toilet and you have a recipe for disaster. Without getting too graphic, I'll just say that it's an odd day that I don't need to use the plunger at least once.
Flushability was something I needed, something that might rescue me from the insanity wrought by my low-flow toilet. And it came to me in the form of Majesta e.z flush bathroom tissue. I recently had the chance to test it out and see the Majesta difference for myself by performing the Majesta Shake Test. With my two handsome assistants to lend a hand, I was ready to see how Majesta bathroom tissue compared to the leading brand.
I have got to say, I was impressed. I've seen the shake test in videos before, but it's just not the same thing as actually experiencing it. The Majesta bathroom tissue literally disintegrated with just a few shakes while the leading brand was still intact. With boys that fill the toilet with bathroom tissue the way mine do, that's a feature that I want!
Want to say goodbye to hassles in your life? Majesta wants to help, and over the next year, the company is doing that with the Majesta e.z Days Sweepstakes. Just visit the Majesta makes it e.z Facebook page and enter once daily for your chance to win the daily prize of a Majesta Product Prize Pack worth $25, one of two monthly prizes of $50 or one of five grand prizes of a $3,000 shopping spree! Head over and enter today to maximize your chances of winning!
I had honestly become so frustrated with my current low-flow toilet that I was considering scouring online ads for an old water-guzzling model and putting it in the bathroom instead just so that I could end my plunger dependency. But with a new package of Majesta e.z flush bathroom tissue in the house, I may just be able to keep this toilet and my sanity after all. I still need to see how it performs when my boys have used way more bathroom tissue than they should, but after seeing the results of the Majesta Shake Test, I'm hopeful that Majesta may just be the answer to my prayers.
Disclosure: I am part of the MAJESTA e.z Day blogger program with Mom Central Canada and I receive special perks as part of my affiliation with this group. The opinions on this blog are my own.