There aren't many people that don't love the fabulous Ford Mustang and this year the car is celebrating its 50th anniversary with a brand new redesigned look that will have Mustang fans clambering to take a look! I recently received some pictures and information about the new 2015 Ford Mustang and it is one gorgeous and powerful machine!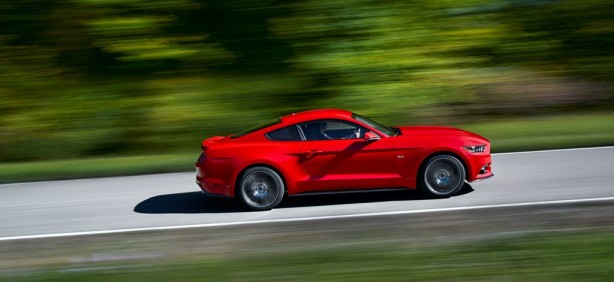 All-new shape, yet unmistakably Mustang
The clean-sheet design of both the Mustang fastback and convertible evokes the essential character of the brand, retaining key design elements including the long sculpted hood and short rear deck with a contemporary execution.
But key design features contribute to the Ford Mustang's new look including the return of the Mustang fastback with a sleeker profile enabled by more steeply sloped windshield and rear glass, three-dimensional tri-bar taillamps with sequential turn signals and a lower, wider stance thanks to the reduction in roof height and wider rear fenders.
The Mustang experience
The way Mustang looks, drives and sounds is key to the experience that makes drivers want to just get in and hit the road. With more options to choose from, there is a Mustang to fit any lifestyle. The upgraded V6 and V8 are joined this year by an all-new 2.3-litre EcoBoost® engine that brings state-of-the-art technology to Mustang.
Mustang GT continues with the latest edition of the throaty 5.0-litre V8, now featuring an upgraded valvetrain and cylinder heads that yield more than 420 horsepower and 396 lb.-ft. of torque. A new intake manifold improves low-speed breathing for better fuel economy, idle stability and emissions.
Most nimble pony ever
The 2014 Mustang features all-new front and rear suspension systems. At the front, a new perimeter subframe helps to stiffen the front structure while reducing mass, providing a better foundation for more predictable wheel control that benefits handling, steering and ride.
At the rear is an all-new integral-link independent rear suspension. The geometry, springs, dampers and bushings all have been specifically modified and tuned for this high-performance application. New aluminum rear knuckles help reduce unsprung mass for improved ride and handling.
Smarter than your average pony
The feeling of freedom and confidence that drivers get in Mustang is amplified when they can take control of how it behaves. On a twisty back road or a weekend track day, the driver can tap the toggle switches on the console to quickly adjust steering effort, engine response, and transmission and electronic stability control settings using the available Selectable Drive Modes to create the perfect Mustang at any time.
The new advanced, Ford-developed stability control is tuned to maximize Mustang's dynamic capabilities with features like torque vectoring that directs engine power to individual wheels to help keep the car on course. When the time comes to turn up the speed at the track, Mustang GT includes standard launch control that enables drivers to achieve smooth, consistent starts every time.
With all the modern Ford technology packed into this car along with its gorgeous, instantly recognizable Mustang style, this car is sure to be a hit. And each 2015 model will feature a special badge on the instrument panel commemorating this very special new car! Make sure you check it out and enjoy a little Mustang eye candy!