While there are plenty of Playtex products that I enjoy, I must say that my very favourite set of products is the Playtex Mealtime feeding line for toddlers. My boys have been using the Playtex Mealtime dishware since they first started eating solid foods and I love the collection just as much now as I did back then.
I recently received the Playtex Mealtime Toddler Feeding Set to review, but it was by no means the first Playtex Mealtime product we have had in the house. In fact, my boys use the Playtex Mealtime Bowls for their cereal every single morning! What I love about these plates and bowls, even for older children, is that they're break-proof and shatter-proof with a rubber ring on the bottom to help minimize spills.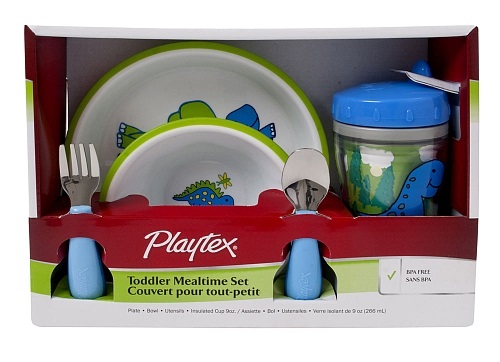 When my boys were younger, a spill usually happened because my energetic infant had picked up his bowl and flung it onto the floor. So the Playtex 100% Break-proof and Shatter-proof Guarantee was one that was very important to me! But now that my boys are older, the chances are higher that they'll accidentally tip over their bowls rather than dropping them. And Playtex Mealtime is still making my life easier with rubber rings around the edges and bottoms of the bowls to help prevent messes!
The Playtex Mealtime Toddler Feeding Set has all the Playtex Mealtime essentials in one handy package. Featuring a Playtex Plate, Bowl, Utensil Set and Twist 'N Click Insulated Cup, it has just what a parent needs for feeding a little one. I love that the plates and bowls were designed with the help of a feeding expert to provide the optimal easy experience for children learning to self-feed. And the fun and colourful kid-friendly designs are a plus too!
Just like all Playtex products, the Playtex Mealtime line is BPA-free and Phthalate-free so that I can feel safe giving it to my boys. And having had the Playtex Mealtime Plates and Bowls for over two years now, I can say for certain that they're also incredibly durable. No wonder they're my boys' favourite dishes!
Whether you have little ones learning to self-feed or you're just tired of cleaning up the messes from your kids spilling with regular bowls and plates, the Playtex Mealtime collection has plenty of options you and your child will both love. Colourful, kid-friendly designs get children excited about using these dishes, while the clever mess-minimizing designs will have you excited too! Give them a try and see if they make feeding your little one a little easier.