Yesterday, January 20th, was National Cheese Lover's Day, but I have to be honest and say that I really don't ever need an excuse to eat cheese. It is my all-time favourite food and one of the things I love about it is its versatility. Whether I want to whip up a fancy appetizer such as brie baked in puff pastry or a hearty dinner like homemade lasagna, it's just a simple fact in my mind that cheese makes everything better.
But while there are plenty of more time-consuming cheese recipes that I love, in this household quick and easy meals are always a top priority. The Kraft Canada website is a constant source of inspiration for me since the recipes, in addition to being delicious, are always so simple to prepare. Of course, I also have a few tried-and-true easy dinner recipes of my own and Kraft cheese is a sure-fire way to make them even better!
That's why I decided to celebrate National Cheese Lover's Day and the start of a new year by making an incredibly simple and delicious Tomato Cheese Bake. With just three ingredients, this tasty dish makes a great lunch or light dinner, especially when paired with crusty French bread and a fresh green salad. And it's even gluten-free!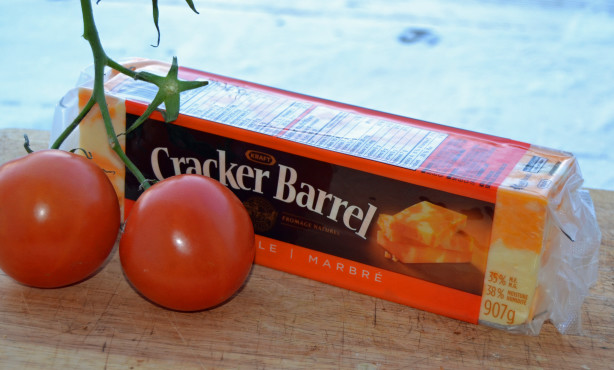 Tomato Cheese Bake
A simple yet hearty vegetarian dish perfect for lunch or a light supper.
Ingredients
4 to matoes
1/2 cup Kraft Real MAYO Mayonnaise
4 oz. Cracker Barrel Cheddar Cheese, grated
4 oz. Cracker Barrel Mozzarella Cheese, grated
Dried parsley to garnish, optional
Instructions
Preheat oven to 350 degrees.
Slice tomatoes thinly and place in shallow baking dish. Spread mayo over tomatoes.
Top with grated cheese and bake 20-25 minutes, until bubbling.
Garnish with dried parsley, if desired.
Serve with French bread and green salad.
Notes
If desired, substitute 8 oz. Cracker Barrel Marble Cheese, grated, for cheddar and mozzarella.
Nutrition Information:
Yield:

4
Serving Size:

1 grams
Amount Per Serving:
Unsaturated Fat:

0g
This recipe is one that my mom used to make when I was younger and it always amazed me how the three ingredients combined so perfectly. It seems almost too simple to work, but the results speak for themselves! Generally I make this dish with a blend of old cheddar and mozzarella cheese, but to make the meal even simpler, I often also use Cracker Barrel Marble Cheese.
I love making this dish in the summer using garden tomatoes since their flavour is so much better, but it's also a great winter meal (especially using organic vine-ripened tomatoes) since the flavours and lightness of the dish remind me of summer while still being filling and warming. It's just one more reason I love cheese; it's great for any season!
For more delicious cheese recipes, make sure to head to the Kraft Canada website to find a few new favourites for your family. Personally, I'm going to be giving these BBQ Cheddar Chicken Roll-Ups a try! Not only do they look like a lunch I would love, but I'm sure they'll be great at helping to ensure my son doesn't end up with lunchbox boredom at school too. Though to be honest, if it's a recipe that involves cheese, it's sure to be a hit in this house!