If there is one food I absolutely adore, it's the sandwich. The versatility of a sandwich makes it the perfect food in my eyes and I could eat a sandwich for every meal and be completely happy. Bacon and egg sandwiches make a great breakfast. Everyone loves a tuna salad sandwich at lunch. And a hearty chicken club is dinner at its best. In the mood for dessert? Hello peanut butter and jam!
But eating all that bread really isn't necessarily the healthiest choice, especially with the added fat and sugar that some breads contain. So when I was given the chance to whip up a sandwich with new Dempster's Zero 100% whole wheat bread, I couldn't resist. This latest offering from Dempster's is a 100% whole wheat bread that contains zero added sugar and fat with all of the great Dempster's taste. I grabbed a loaf at the store and headed to the kitchen to whip up something tasty.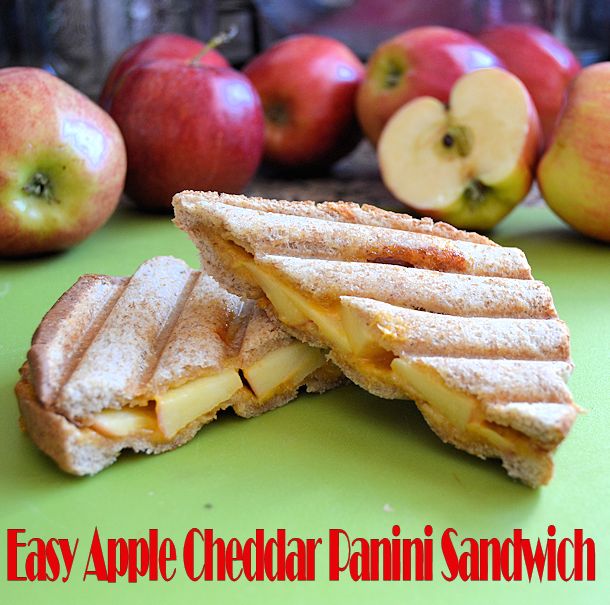 With a healthier bread to work with, I had two options. I could take advantage of the lower fat and sugar content by making something especially decadent. Or I could make a healthy sandwich that would now be even healthier thanks to Dempster's Zero. I decided to go with the healthy option by creating a delicious and satisfying Apple Cheddar Panini.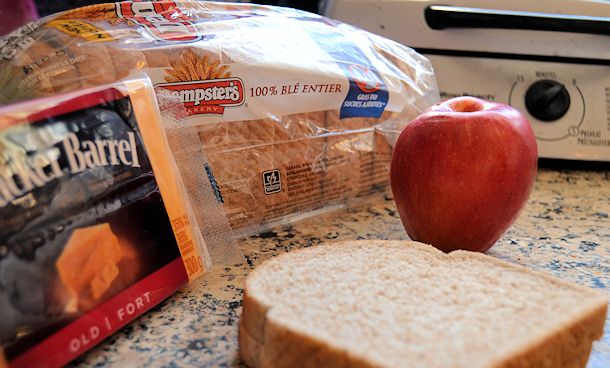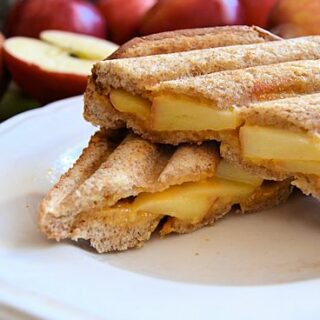 Apple Cheddar Panini
An easy and healthy Panini that's filling and flavourful
Ingredients
2 slices Dempster's Zero 100% whole wheat bread
1/2 apple, cored and sliced
3 oz. sliced old cheddar cheese
1 tbsp. butter
Instructions
Preheat Panini press or countertop grill.
Butter one side of first slice of bread and place butter-side down on grill.
Top bread with cheddar and apple slices.
Butter one side of second slice of bread and place on top of sandwich, butter side up.
Close grill and cook for 4-5 minutes, until bread is toasted and cheese is melted.
Cut in half and serve.
Nutrition Information:
Yield:

1
Serving Size:

1 grams
Amount Per Serving:
Unsaturated Fat:

0g

This sandwich is easy to make, bursting with flavour and incredibly satisfying. When I was a child, my mom used to make open-faced apple cheddar sandwiches in the oven under the broiler, and using my countertop grill to make this childhood favourite into a Panini was a variation I wish I had thought of sooner. The bread came out crispy and delicious, the apple cooked to a perfect tender-crisp texture and the melted cheese sandwiched everything together perfectly.
While I used real butter for the bread, spraying the grill with non-stick cooking spray would be another option that would result in a lower fat content for this sandwich. Personally, I'm a big supporter of natural foods so butter is always my top choice for a sandwich like this. And of course, it also provides the best flavour!
Dempster's Zero is a dream come true for a sandwich-lover like me, and if you want to indulge in a little dreaming of your own, check out this fun Dempster's Zero video and learn how you can star in your very own romance novel! And of course, make sure to check out the Dempster's Facebook page for tons of amazing recipes and ideas to help you indulge your sandwich love!
The Dempster's Zero bread tasted exactly like the original whole wheat bread to me and I liked knowing that I could make my boys' daily lunches a little healthier and lower on sugar as well as enjoying this bread myself. Grab a loaf and give this tasty and healthy Panini a try! Or create your own sandwich on bread that has zero added fat and sugar, but all the taste you love!