Relaxing with a good computer game is one of those things that just instantly distracts and relaxes me, so I always enjoy testing out new games. Midnight Castle by Big Fish Games was released a few months ago as a free game for the PC and it was so popular that the company just today released it for iOS on the iPad as well. This hidden object adventure game begins as you find out you've just inherited a magnificent estate from your uncle, who met his demise under mysterious circumstances. Your goal is to enter the castle and solve the mystery behind your uncle's fate. Along the way, you meet and interact with a variety of colourful (and some supernatural) characters. Each person sends you on mini quests before they'll help you on your journey.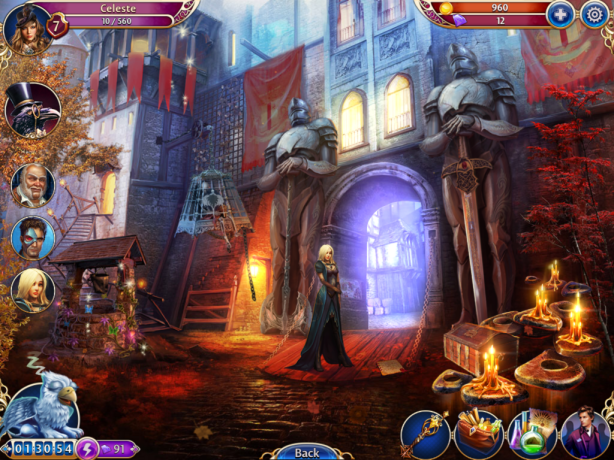 The game is beautifully rendered with incredible detail and lush colours. Each scene really sets the mood, but the plot can be a little overwhelming too. As the game progresses, new features unlock and more quests are added for you to monitor and keep track of. Quests become cross-linked, so in order to progress you need to complete all the parallel tasks handed to you by your would-be allies.
The heart of the game is the hidden object game play. You're given a list of items to find amidst a clutter of objects strewn across the scene. Racing the clock is important because the faster you find all the items, the more bonus points you'll earn. The downside is that the game will make you wait a few hours before you can resume, or you can spend jewels to immediately unlock it. Run out of jewels? You can use real money to purchase more, though be careful as this can quickly become an expensive habit.
To celebrate the iOS release of the game, Big Fish Games is hosting a very special giveaway on the Midnight Castle Facebook page! Just head to the page and comment "I love Midnight Castle" on the giveaway post to be entered to win. One lucky commenter will be chosen to win an iPad Mini, but the contest ends April 9, 2014, so don't miss out!
So far I've logged about three hours of game play and it's turned out to be quite addictive. "Just one more quest" was a reoccurring thought in my head before I was forced to put down my iPad by the game's time-out clock. I can't wait to dive deeper in and find out how the story unfolds. Download Midnight Castle for iOS from Big Fish Games and see if you can solve the mystery of your missing uncle!