When my boys and I visited the Beaches Negril resort in Jamaica this past December, we had a first-hand look at what makes this destination so special.
Tons of fun activities for kids and plenty of luxurious relaxation for parents is made even better by the company's commitment to bettering the lives of the people in nearby communities through the Sandals Foundation. No wonder so many people choose a Beaches vacation when it's time to travel!
But one of the other things that makes Beaches vacations for families so magical is the company's partnership with Sesame Street.
The resorts are celebrating its ten-year anniversary of the partnership this year and when our family visited Beaches Negril, we saw first-hand just how many different ways there are for the Sesame Street characters to add to the magic of your child's vacation.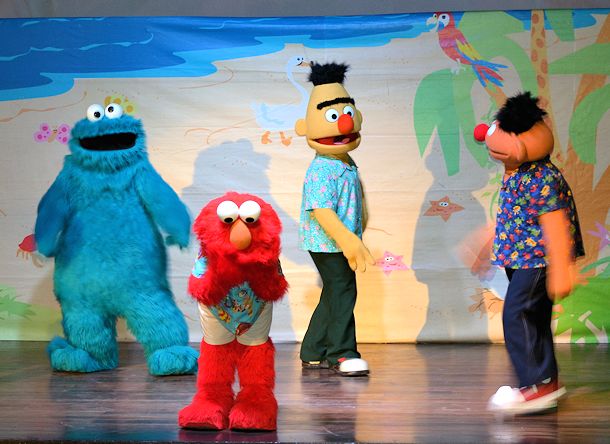 While the Sesame Street characters are often seen walking around the resort and interacting with children, there are also special, more exclusive chances to interact with Elmo, Big Bird, Oscar the Grouch and all your other favourite monsters.
Our first experience with a Sesame Street friend was when my boys got the chance to take part in the From Trash to Treasure with Oscar the Grouch activity. Oscar dropped in at the beginning to help get kids inspired and then came again at the end of the activity to see how the kids had turned trash into treasure. My craft-loving boys had a blast making special treasures for family back home. And best of all, this activity is free for anyone staying at the resort!
Beaches vacations for families also offer some more exclusive Sesame Street encounters and one of my personal favourites was the Night Night Sleep Tight experience. The resort set up a bedtime experience for our family and I have to admit that when I was asked which character we would like to drop by and tuck the boys in, I encouraged my boys to pick Grover, one of my own favourites! After a fun night at the resort, we headed back to the room and got ready for our special visitor to arrive.
The Night Night, Sleep Tight with Sesame Street is such a fun little experience for a child. Grover cuddled up in bed with the boys while one of the resort employees read a bedtime story. Then the boys sang a song and said a bedtime poem before getting tucked in and having Grover say goodbye. As an added bonus, Beaches Negril even sends one of the resort photographers along to take pictures of the special experience.
There are many other included Sesame Street experiences on Beaches vacations for families, including a Super Science Fair with Grover, Baking Cookies with Cookie Monster and Story Time with Elmo. But one of the all-time most popular experiences is the Sesame Street Character Breakfast.
This event is one of the few experiences that has an extra charge, but with a cost of just $12.50 per person for a family of four, it is well worth it! We were lucky enough to have our breakfast set up on the beach and with treat bags, decorations and a very special kid-friendly breakfast, it was one of the highlights of our trip.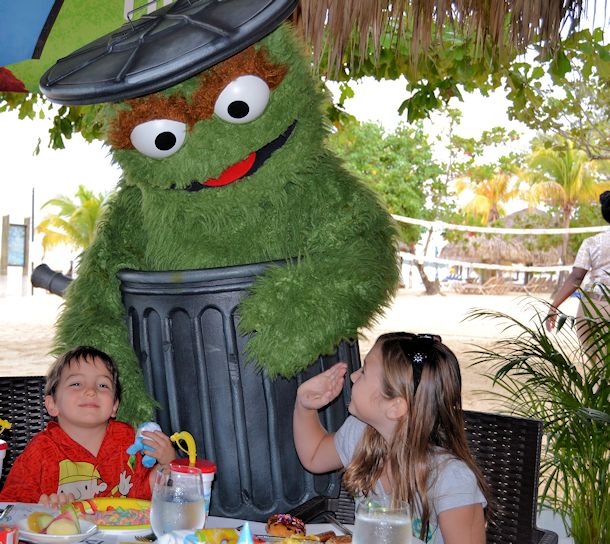 Of course as we ate, we had the chance to visit with all the Sesame Street characters as they dropped by one-by-one to say hello. The wonderful thing about the character breakfast is that all of the characters come to every single table to give hugs, wave hi and post for pictures. I may just have been more excited than my boys when I got to take a picture with my very favourite Sesame Street friends, Burt and Ernie!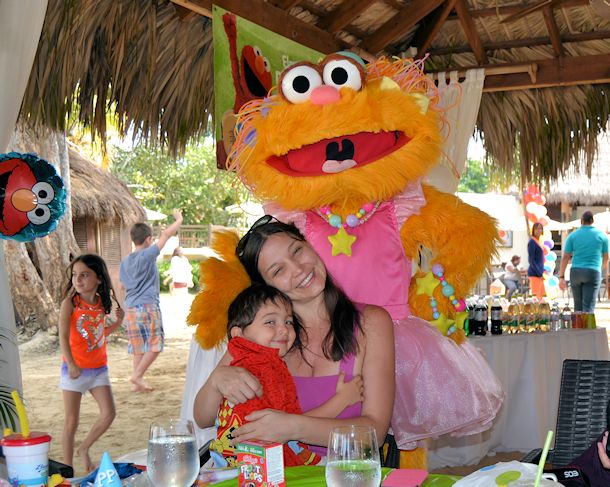 When it comes to giving children a vacation to remember forever, Beaches Resorts is a leader thanks to its partnership with Sesame Street. Three months later, my boys still talk about their experience at the resort and how much fun they had with the characters from Sesame Street. And as someone that grew up watching the show, I must say that the experience was just as magical for me. If you have a Sesame Street fan in the house, planning that Beaches vacation for families is a way to ensure that your trip creates memories that will last a lifetime!