Even though March has arrived, winter is not letting go easily this year. In fact, just this morning Southern Saskatchewan had six inches of snow and temperatures of minus 30. When winter hangs on like this, staying healthy is important, so it's time to be a warrior, with a little help from Church & Dwight! First of all, help boost your immune system and prevent illness with these great tips:
Sleep – Everyone needs a good night's sleep; proper shut-eye allows your body to rest and keeps your immune system strong
Multivitamin – A multivitamin can certainly help maintain good health and it's important to have one that you'll enjoy and remember to take. Vitafusion™ MultiVites™ adult gummy vitamins (yes, gummies for big kids!) contain the essential vitamins you need. For the kids, try L'il Critters™ GummyVites™. Kids love the flavour so much that if you forget to give them their vitamins, they'll remind you
Exercise – With a busy routine maintaining an exercise schedule can feel like a chore, but regular exercise is an easy way to keep your body strong, helping your immune system fight off illnesses such as a cold or flu
Wash your hands – Your best protection from the common cold and flu is frequent hand washing

And if the cold or flu does strike, feel better faster with this helpful advice:
Treatment – With ingredients like ginger and willow bark, Gravol's® Natural Source Multi Symptom will help you kick that cold to the curb. This all-in-one pain, fever and nausea reliever won't leave you feeling drowsy either, because we all know you've got a million things to do
Exercise – Just as much of a preventative measure as it is a solution; don't let sore muscles and joints stop you from being active. Bring out the triple threat – RUB A535® Triple Action Cream cools, warms and soothes to keep you going. Exercising will help your body fight the cold, improve your mood, boost your energy and help you sleep, a win-win situation
Drink Fluids – Just like your parents always said, drink lots of hot liquids to soothe your throat, thin your mucus and put you on the road to recovery
Vitamin C – No time to peel 10 tangerines? Try Vitafusion™ Power C™ adult gummy vitamins to up your vitamin C intake. Delicious orange flavour and yummy gummy texture will make remembering to take them the easiest thing you do today
As soon as the weather gets especially cold, the first thing that I do is make sure the boys and I are taking a multivitamin every day. If coughs and sniffles start, I add vitamin C as well to help boost immunity. I hadn't tried Vitafusion vitamins before, but recently I recently I received the new Vitafusion MultiVites adult gummy multivitamins to try and they are sure a delicious way to stay healthy!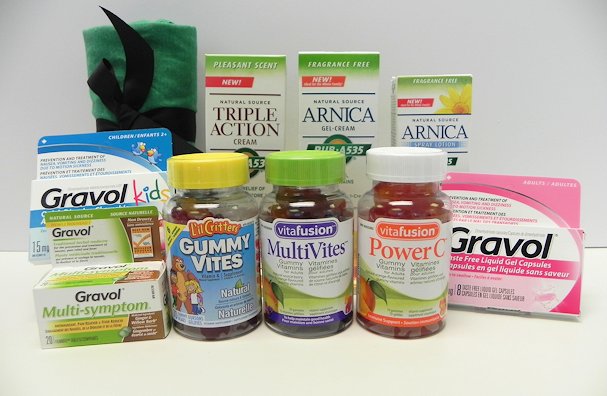 To help you be a winter warrior, Church & Dwight has an amazing giveaway just for you! The company is very generously offering two lucky Mommy Kat and Kids readers their very own Winter Warrior prize pack containing Vitafusion™ MultiVites™, L'il Critters™ GummyVites™, Vitafusion™ Power C™, RUB A535® Triple Action Cream, RUB A535® Arnica Gel-Cream, RUB A535® Arnica Spray, Gravol® Natural Source Multi-Symptom Tablets, Gravol® Kids Quick Dissolve Chewable Tablets, Gravol® Liquid Gel Capsules and a Vitafusion™ T-shirt, a $100 value! To enter to win, just leave a blog comment with your best tip for staying healthy in the winter.
Whether your weather is starting to get warmer or you're still dealing with frigid temperatures, it's important to make sure that you keep your body healthy through the last cold days of the season. And with any luck, all us winter warriors will be able to welcome spring very soon!
a Rafflecopter giveaway