The ground is covered in snow and the wind is icy cold, but spring is here and I am going to enjoy it one way or another! One of my favourite things about spring is the food and fortunately, I don't need to wait for sunshine and warm weather to indulge in fresh spring flavours…even if I can't head outside to barbeque just yet!
Asparagus, rhubarb and spinach are just a few of the classic spring foods but my personal favourite spring flavour is maple syrup! Since trees are traditionally tapped right around the beginning of March, early spring is the time when many families indulge in their favourite maple recipes. And luckily for me, the Kraft What's Cooking website had plenty of tasty ideas using this delicious Canadian concoction!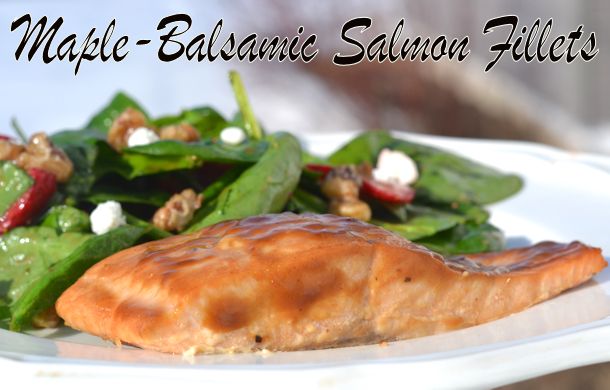 What I love about maple syrup is that even though it is sweet, it adds amazing flavour and complexity to savoury dishes. And since I was in the mood for fresh spring flavours, I decided to create the ultimate spring feast: Maple-Balsamic Salmon Fillets with Strawberry & Goat Cheese Salad!
The sweet and tangy glaze was the perfect accompaniment to the fresh, meaty salmon fillets. In fact, I was a little surprised at how well the sweetness of the maple syrup shone through in this delicious glaze. I substituted classic creamy Dijon mustard for the grainy variety as I really wanted the glaze to be rich and smooth. I also used classic Kraft Balsamic Vinaigrette Dressing instead of the Kraft Extra Virgin Olive Oil Fig Balsamic Dressing variety that was recommended so that the sweetness of the maple would be highlighted instead of having to compete with the sweetness of the fig.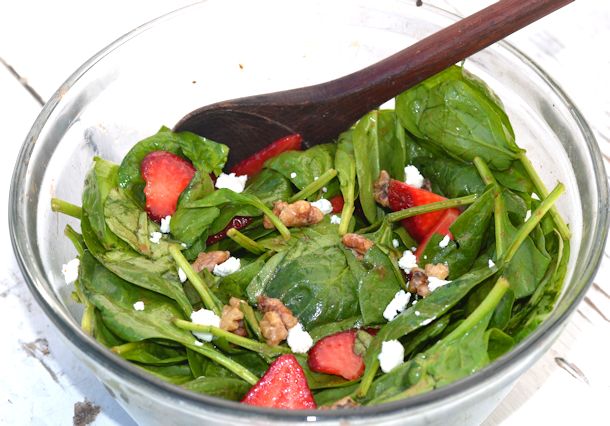 But while the fish was delicious, the Strawberry and Goat Cheese Salad was even better. I loved the way it used the classic maple walnut combination to add sweetness and crunch to the fresh spring ingredients of spinach and strawberry. Since I was using the Kraft Balsamic Vinaigrette Dressing for the fish, I used it for the salad as well to tie the meal together. The sweetness of candied walnuts and strawberries combined with the tanginess of the goat cheese and dressing resulted in a salad that even my picky boys adored!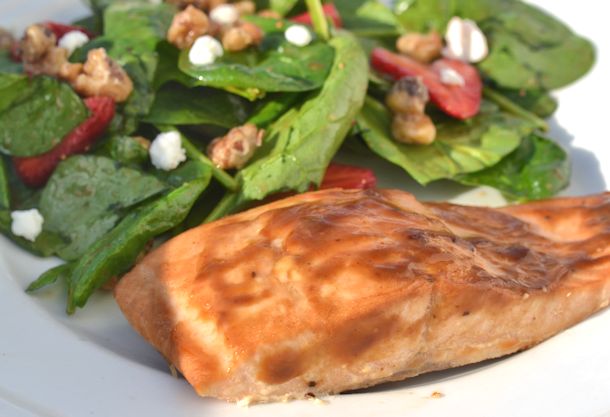 No matter what your favourite spring flavours are, the Kraft What's Cooking website has easy and delicious meal options that will have you feeling warmer even if your yard is still covered in snow. Celebrate the return of spring with this tasty spring-themed meal or one of your own and cross your fingers for warmer days soon!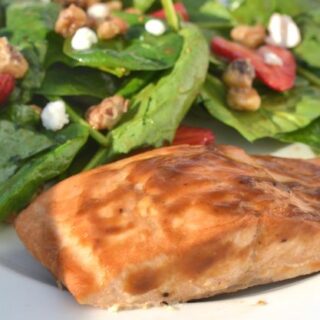 Maple-Balsamic Salmon Fillets
A tasty glazed salmon fillet with sweet maple perfect for a spring main course
Ingredients
3 Tbsp. Kraft Balsamic Vinaigrette Dressing
2 Tbsp. maple syrup
4-1/2 tsp. creamy Dijon mustard
2 tsp. reduced-sodium soy sauce
4 skinless salmon fillet s, 1 lb./450 g
Instructions
Mix all ingredients except fish. Reserve 1/4 cup dressing mixture; pour remaining over fish in shallow dish. Turn to evenly coat both sides of each fillet. Refrigerate fish, along with reserved dressing mixture, 30 min. to marinate.
Heat oven to 450°F. Remove fish from marinade; discard marinade. Place fish in single layer in shallow foil-lined pan.
Bake 8 to 10 min. or until fish flakes easily with fork. Meanwhile, bring reserved dressing mixture to boil in saucepan; simmer on medium-low heat 2 to 3 min. or until slightly thickened, stirring frequently.
Serve fish topped with sauce.
Nutrition Information:
Yield:

4
Serving Size:

1 grams
Amount Per Serving:
Unsaturated Fat:

0g