I love being a mother and it's something I've embraced since I learned I was pregnant eight years ago. My emotions after having my first son were mostly of wonder, happiness and love, but in the coming weeks another emotion started to creep into my days…confusion. When it comes to taking care of a baby, parents have a plethora of choices. That's a good thing, but it can also make life more confusing for a new mother! Bottles are the perfect example. From different bottle designs to different nipples that provide certain benefits and flow rates, how is a mother to know which bottle is best for her little one? Babies can be picky and so even after making a choice, many parents find that their little ones reject the bottle or nipple that's been purchased and favour a different one.
If only the Playtex Bottle & Nipple Gift Set and Playtex Nipple Variety Pack had been available when my boys were babies! The newest innovations from Playtex are perfect for any parent that has been uncertain about which bottle or nipple to choose for their baby. The Bottle & Nipple Gift Set features one 9oz. VentAire bottle, one 8oz. Nurser bottle with five Drop-Ins liners, and the Playtex Nipple Variety Pack featuring an assortment of distinctly different nipples so that a new mom can find her baby's perfect bottle. From a full sized nipple for wider mouths to the NATURALATCH nipple that most closely mimics breastfeeding to an angled nipple for upright feeding, this set allows for the customization that our unique little darlings need! The Playtex Nipple Variety Pack can also be purchased separately and contains four distinct silicone nipples so that if you've already found the perfect bottle, you can pair it with the perfect nipple too!
While I have used both the VentAire bottles and the Nurser bottles with Drop-Ins liners in the past, I found that the Drop-Ins system is the one that I came back to time and time again. It's just so convenient to use and because the liners are already sterilized, it minimized the work of sterilizing bottles. Best of all, the fact that the liner collapses as baby drinks means that air stays out of the milk and thus out of a baby's tummy to help reduce colic.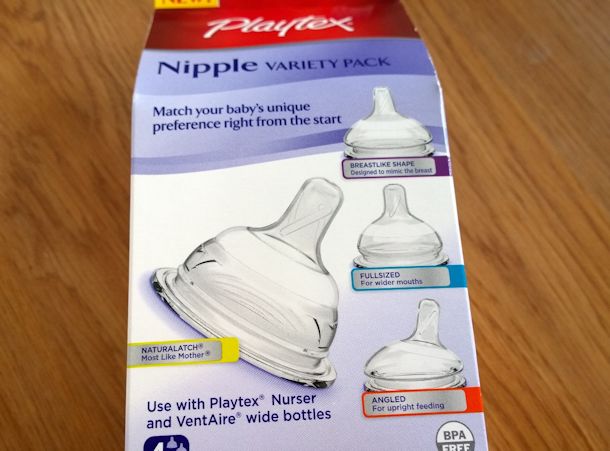 But while the bottle designs are incredible, it's the new Playtex Nipple Variety Pack that I really adore. I've seen for myself how important a proper nipple is when feeding a baby just from watching my two little nephews with their bottles. One, at two years old, needs a medium flow nipple with a larger size when he lays down for a bedtime bottle of milk. The other, at just eight months, also uses a medium flow nipple but needs it to be smaller and more naturally shaped. As soon as I received this kit to review, I knew either the Full Sized or the Angled Nipple would be perfect for my older nephew and the NATURALATCH or Breastlike Shape nipple would suit my younger nephew. And the fact that all these options come in one convenient gift set to help eliminate that new mom confusion is wonderful!
If you have a new baby or know somebody that does, Playtex has an amazing giveaway for you! The company is very generously offering one lucky Mommy Kat and Kids reader their own Bottle & Nipple Gift Set (Slow Flow), a $22 value! To enter to win, just leave a blog comment about your baby's most unique characteristic.
The reason I have always been such a huge supporter of Playtex is that the company works so hard to make life easier for a new mom full of questions, and this new Bottle & Nipple Gift Set and Nipple Variety Pack are perfect examples of that. If you're not sure which bottle is the best choice for your uniquely individual darling, check out these new options from Playtex to find a bottle and nipple that's perfectly suited to your little one's feeding style!
a Rafflecopter giveaway