I love OPI nail products because the company is always innovating, and new Sheer Tints by OPI are a perfect example of that. These fresh new top coats are a clear, tinted nail lacquer that is applied over coloured polish to create a rainbow of fun nail designs. I received the four new Sheer Tints by OPI shades to review recently and decided to test them out over the same solid polish to see how the tints would change my look.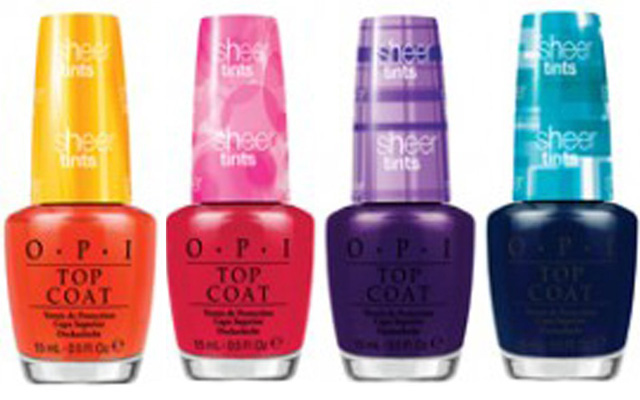 I used the mint green Alex by the Books Nicole by OPI polish as my base polish. Then one it was dry, I applied I Can Teal You Like Me, a sheer teal blue, on one hand and Don't Violet Me Down, a crystal sheer amethyst, on the other. The blue gave my nails a great oceanic look with blue and green both showing through, but I liked the purple even better. It blended with the light green colour to create a subtle ombre effect that was so pretty!
The texture of this nail lacquer was a little bit different than a standard OPI polish. It had a slightly thicker, gluier consistency that took a bit of time to apply. But once it was on my nails, I noticed that it dried in mere minutes. And in addition to dressing up my nails, it had a hard, glass-like finish that I'm sure will have great durability too.
Sheer Tints by OPI are available this month across North America, and with four fun shades to choose from, they're a great way to create a bunch of new looks with the nail lacquers you already have. Grab a few to try out and enjoy a fresh new top coat look with the help of these vibrant sheer shades!