Tax season is here and if there's one thing that I've learned running my own business, it's that being organized makes the process of doing taxes a whole lot easier. One of my best investments to help streamline my tax process was a big box to hold receipts and documents I would need to file my taxes. Of course, plenty of the necessary information is also on my computer too!
The Master Lock Vault is proving to be an invaluable resource to me when organizing my tax documents, since I can upload all the receipts and information I need and have access to that content anytime and anywhere. Best of all, it's free to use and features great security! And now, you can have a chance to enjoy a little tax relief just for trying out the Master Lock Vault in the Master Lock Tax Relief Rewards Sweepstakes!

To enter, new users can register for a Vault account at www.MasterLockVault.com. Once the account has been activated, users will receive an email containing the sweepstakes entry form. Existing Vault users who have opted in for brand communications will receive an email with the sweepstakes entry form or can enter online at http://masterlock.com/tax_relief/. When the sweepstakes ends on April 16, five lucky winners will be randomly selected to win $1000!
Master Lock also wants to help make your tax filing a little easier this year with a very special giveaway! One lucky Mommy Kat and Kids reader is going to win their very own 7148D Document Storage Box to keep tax documents organized and secure, and a 2120DWD Laptop Lock to ensure that your laptop and all the important information on it stay safe! With a total value of $41, this Master Lock prize pack will help make filing taxes a little bit easier and is a great way to start getting organized for next year's taxes too! To enter to win, just leave a blog comment about whether you file your own taxes or have somebody do it for you.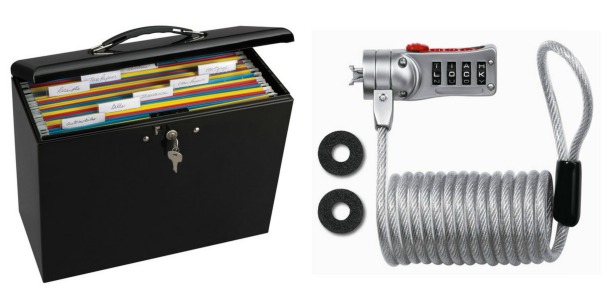 Whether you have a careful method in place for your taxes or you're in desperate need of a system to keep your work organized, Master Lock has products and services that can help. And using the Master Lock Vault to organize your information may just result in you getting a bonus payout this tax season! Enter to win today and make tackling those taxes a little easier!
a Rafflecopter giveaway