There are so many things I love about spring, but one of my very favourites is that my boys and I can finally start riding our bikes again. Making sure my boys have the best gear for our adventures is always one of my top priorities so that they're both comfortable and safe when biking, and this year, Sport Chek has some great new bikes and accessories to get kids ready to ride!
Helmets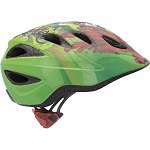 Giro Rascal Child Helmet Boy
Features a snap-fit visor, one-handed AcuDial fit system and 20 vents. $19.88
Louis Garneau Flow 1Q2 Bike Helmet Girl
The Flow helmet is perfectly designed for your daughter and available in great designs. The inner bug net allows ventilation but keeps insects out. $14.88
Bike
Nakamura Crxssfire 16 inch 2014
The Nakamura Crxssfire 16 inch is the next step for your son when he grows out of the 12 inch tire bike. Once you get your children riding this bike you can take those fun leisurely rides around the neighborhood. $119.99


Parent and Baby
Chariot Cheetah 1 + Stroll – Green
The Chariot Cheetah is the lightweight performer. The perfect training partner for the athlete in the family. $449.99
Polisport Boodie FF Child Bike Seat
The Polisport Boodie FF Baby Seat is designed to carry a small child on the back of an adult bike. $79.99
Boy/Girl Accessories:
With kid-friendly graphics, the Kid Ride gloves are essential for your toddler's first riding days. $14.99
This bell easily attaches to any handlebar. $5.99
Torch Bright Flex 2 LED Bike Light – White
2 Ultra bright LED lights that can be mounted in various positions on a bike. $9.99
To help my own little junior biker learn how to ride a two-wheeler, Sport Chek sent us the Nakamura Crxssfire 16" bicycle to test out for ourselves. Benjamin was in need of something a little bigger and sturdier to really master riding a two-wheeler and this year, that's one of our family goals. Benjamin learning to ride a bicycle without training wheels will mean that my boys and I can enjoy even more bicycling fun this summer since Zackary and I both have a bit of a need for speed when we're out biking!
What I love about this bicycle is that it has a great modern and trendy look that a kid will love while still boasting all the features I want. With both a hand brake and the traditional back-pedal braking, this bike will let Benjamin take his time learning the basics, and the sturdy training wheels are perfect for helping him develop balance before we take them off and start teaching him to ride without them. As an added bonus, the quick-adjust seat will let the bike grow as he does!
Whatever gear you need for your children this spring, Sport Chek has plenty of options so that you can ensure your kids are riding safe and happy this year. Head into the store and grab that new bike, helmet or safety gear for your little ones so that they can enjoy the fun and exercise of biking as long as possible before the snow starts to fall again!