I'm very picky when it comes to buying expensive new gadgets and tech toys. For me, they're rare purchases meant to be taken care of to ensure their longevity. The iPad Air is one of the most coveted gadgets around, so when I was given one, for a while I didn't dare open the box for fear an errant scratch might blemish its fine finish. Happily I was given the chance to review the Snugg iPad Air Case Cover with built-in flip stand. Available in 14 different colours, including a unique denim finish, there is sure to be a shade to match your tastes.
I chose the black which comes with a stylish white contrast stitch. The case is made of PU leather which gives it the look of grained leather, but is much more durable ensuring the case will stand up to the rigors of a modern lifestyle. It is tear resistant, will not scuff easily and surface stains can be wiped off with a damp cloth. Fold back the nubuck-lined cover and you'll find an integrated elastic hand strap which allows you to hold your device while on the go, making it perfect for those standing-room only subway rides where you find yourself with only one-hand free.
The case also features a latch on the rear. Slip the front cover into the latch and you can position your iPad in one of two different orientations. Note that it only allows for landscape mode viewing, so if you prefer portrait you'll need to prop it up yourself. For those who use a stylus, the top of the case has a loop to hold the stylus in place when not in use – clever! The case features cutouts for the front and rear camera, microphone, power switch, Home button and volume buttons. Happily, the case is also compatible with the iPad's Sleep mode. The magnetized cover will put the iPad to sleep when closed and wake it up when opened.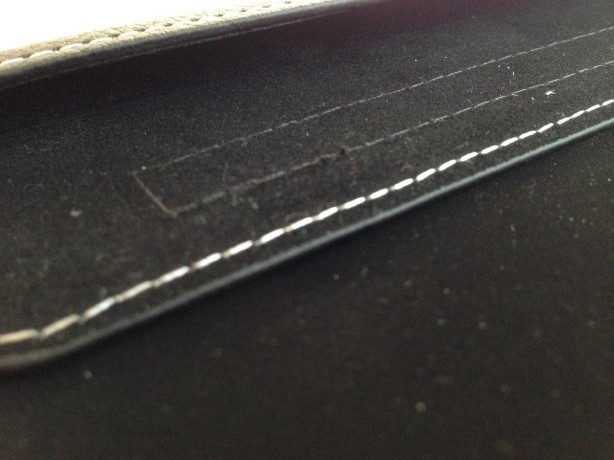 As I mentioned in my intro, I'm very picky about my devices. That (sometimes annoying) trait also extends to accessories as well. The Snugg case has a few nitpicks that stood out. The stitching on the hand strap was not properly finished, leaving a frayed end exposed. The thread was rather tough which could potentially scratch the screen over time. I solved this issue by snipping it back until it was flush. The corners of the case, by nature of the design, are also exposed. If you're the type to toss your tablet into a knapsack with other items this is a vulnerable point for scratches and scuffing.
The iPad is held in place by a "frame" which surrounds the front of the display's bezel. I found this sometimes interfered with operations requiring you to swipe to the edge, such as bringing up the iOS 7 Control Center. My only option was to pull back the front of the frame to properly swipe to the edge. Also note that the display area is completely open so you'll want to apply your own screen protector if that is a concern. Thicker, glass-based protectors may not be compatible so check before purchasing one.
While the Snugg case is not as svelte as other slip cases, it does offer rugged and durable protection in a stylish look. The case is nearly perfect but for some minor design issues. And somewhat unique amongst accessory makers, Snugg really stands behind their product. Offering a lifetime guarantee, they promise to replace your case with a brand new one should it develop a fault, making it a great economical choice for protecting your device.