Friday, May 16, was the third annual Food Revolution Day, an occasion created by celebrity chef Jamie Oliver to help teach children about the joy and importance of cooking with real, wholesome ingredients.
This year, Sobeys teamed up with Jamie Oliver to host the country's biggest potluck, the Potluck Challenge, through the Better Food for All website and I was so excited to be a part of it!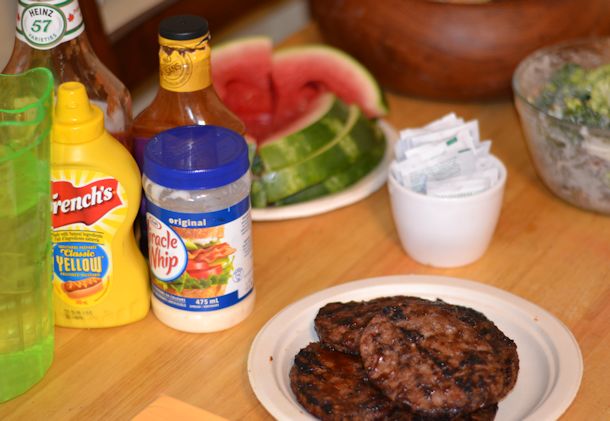 The mission was simple. Host a potluck for Food Revolution Day, Tweet and Instagram pictures from the event using the hashtags #PotluckChallenge and #FRD2014 and for each hashtag mention, Sobeys would donate $1 to Children's Aid Foundation's Cooking Toward Independence project.
This initiative teaches children in the child welfare system how to cook so that when they reach adulthood, they have the skills they need to prepare nutritious meals for themselves. I've always taken for granted the cooking skills I learned from my mother when I was younger but since learning about this program, I'm so grateful that I had her in my life. Thanks to Sobeys and Food Revolution Day, now other children will have a chance to develop the same essential skills!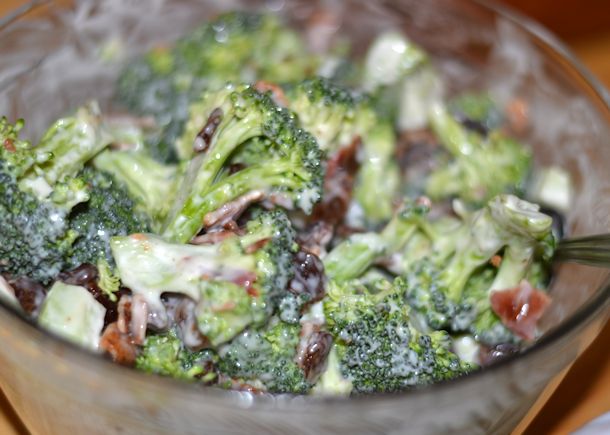 I shared a few tips for hosting a potluck a few weeks ago, and I took advantage of every one of them when Food Revolution Day arrived and it was time for my own potluck.
I decided on an outdoor barbeque potluck, so as host I provided burgers and fixings while guests brought salads and desserts. But I couldn't resist also whipping up one of my favourite potluck recipes, Broccoli Salad!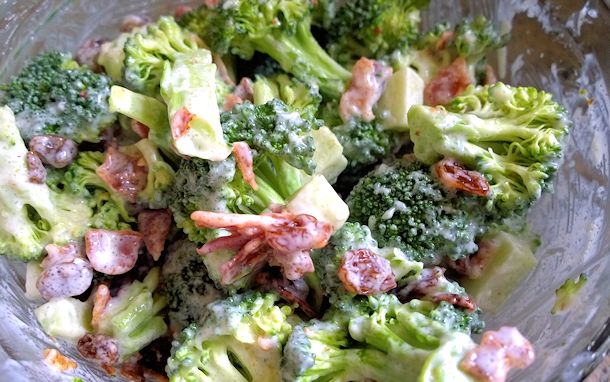 There are so many different variations of this recipe, but the one that I love best includes bacon and cheddar cheese. Many people also include chopped red onion, but I got my recipe from my mother and she doesn't like onions, so I've never included them. I've always loved the taste of the salad without the onions, so I figure why mess with a good thing?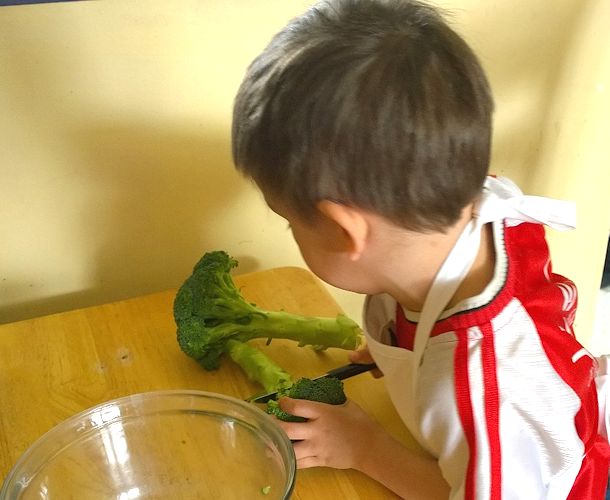 The salad is quick and easy to make, so Benjamin helped me by chopping the broccoli and putting it into the salad bowl while I cooked the bacon to crumble into the salad. He also helped me mix up the dressing, a simple combination of mayonnaise, vinegar and sugar. The finished salad contained just a few wholesome ingredients and was absolutely delicious!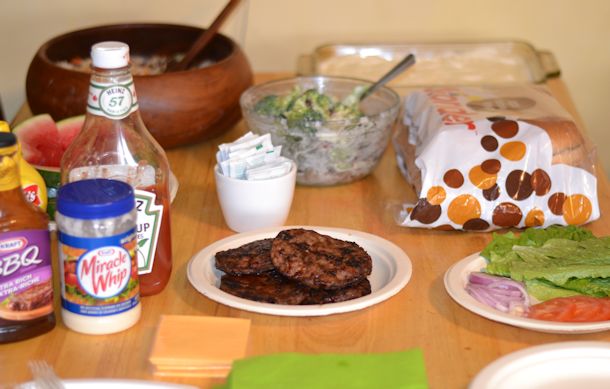 Sadly, rain interfered with my plans for an outdoor event, so the food ended up on the kitchen table instead. My potluck gathering was fairly small but when all the food was out, there were still plenty of delicious options!
My boys especially loved the Blueberry Cream Dessert with its graham crumb crust, blueberry filling and topping of cream cheese and real whipped cream. And of course, the burgers were a hit with everyone! To keep people's beverages straight, the Solo Cups I found at my Sobeys store were an absolute dream come true. Just scratch a name into the cup to know at a glance which drink is yours!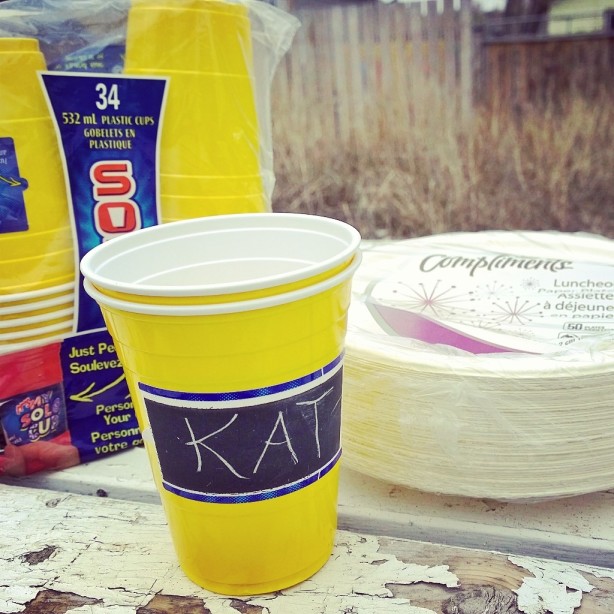 Taking part in the Sobeys Potluck Challenge was so much fun, but the best part of the experience was knowing that just by sharing the photos and updates of my experience, I was helping to ensure that children could gain essential cooking skills that will benefit them for the rest of their lives.
And while the Potluck Challenge may be over, Sobeys is continuing to challenge Canadians to cook better food with the Better Burger Challenge! Just tweet or Instagram photos of your favourite burger using the hashtag #BetterFoodForAll to take part!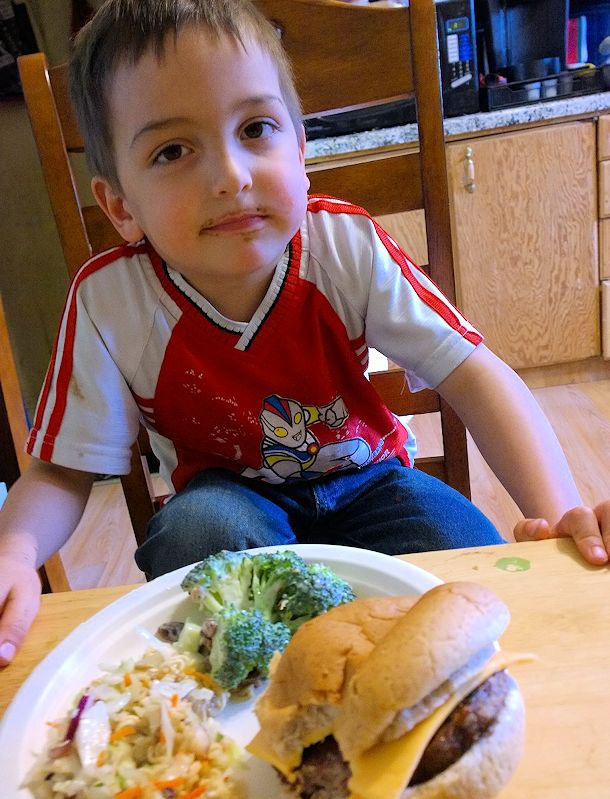 What I love about Food Revolution Day is that while it has a very important purpose and message behind it, it's also very much about celebrating the joy of cooking and spreading that joy to our children. Sobeys has done such a great job of instilling that spirit of fun and creativity into its partnership with Jamie Oliver and Food Revolution Day.
And I, for one, am going to be making sure I keep the message alive all year long by getting my boys involved in cooking a little more, eating out a little less and enjoying all the delicious and healthy benefits of real food!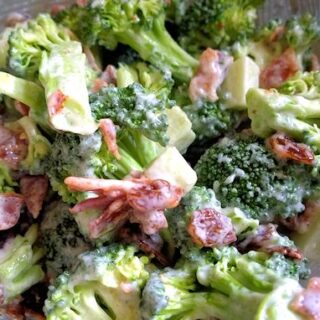 Broccoli Salad with Bacon and Cheddar
Total Time:
3 hours
10 minutes
A flavourful salad that pairs crunchy broccoli, sweet raisins and smoky bacon with a tangy mayonnaise dressing.
Ingredients
6 cups broccoli florets
1 cup grated cheddar cheese
10 slices bacon, cooked and crumbled
1/2 cup diced red onion (optional)
1/2 cup mayonnaise
1/4 cup white sugar
2 tbsp. white vinegar
Instructions
Mix mayonnaise, sugar and vinegar in small bowl.
Combine broccoli, cheese and bacon in large bowl.
Pour mayonnaise mixture over broccoli and toss to coat.
Cover and refrigerate at least three hours or overnight.
Nutrition Information:
Yield:

6
Serving Size:

1 grams
Amount Per Serving:
Calories:

340
Total Fat:

24g
Saturated Fat:

6g
Trans Fat:

0g
Unsaturated Fat:

17g
Cholesterol:

36mg
Sodium:

565mg
Carbohydrates:

20g
Fiber:

5g
Sugar:

11g
Protein:

13g