If there's one essential parental must-have for children transitioning from a bottle to a cup, it has to be the sippy cup. A good sippy cup just makes life so much easier…children can't spill the beverage, the cups are designed to be easy for little hands to hold and the portion size is just right. My boys used a lot of different sippy cups when they were toddlers, but all the cups they used were from Playtex, because the company does such a great job of making sippy cups that work for a variety of needs.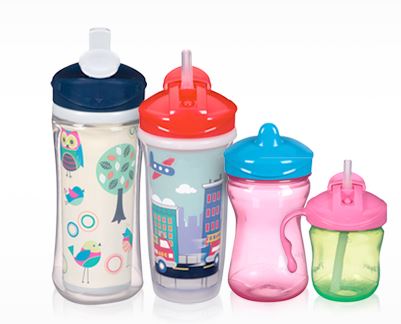 Now, Playtex has debuted a new and improved line of sippy cups with different key purposes so that parents and their little ones can find the perfect cup for them. The TrainingTime cup is designed for babies that are four months or older. It features removable handles for easy gripping so that parents can transition their little ones to the feel of a real cup. The AnyTime cup is designed for babies nine months and older and features a contoured design that's easy for little hand to hold and a special spout that makes controlling the flow of liquid easier. The PlayTime cup is larger for children 12 months and older and insulated so that children's drinks stay cold. And the TravelTime cup is perfect for children 24 months and older and features a straw lid with a sliding top to keep the straw clean.
I received the Playtex PlayTime sippy cup to review and since I have used Playtex sippy cups so often in the past, I was interested to see how the new and improved design compared to the sippy cups I've loved and used for my boys before. The first thing I noticed about the new and improved sippy cups is that every one of them featured the Twist 'n Click leak-proof seal. This is one of my very favourite features on Playtex sippy cups so I was excited to see that it's now part of the entire line. When putting on the lid, a simple click is audible when the lid is properly sealed to guarantee no leaks or messes. I love knowing that the beverage will stay in the cup where it belongs!
I also like the insulation of the PlayTime cup, since both of my boys were pretty slow drinkers when they were younger. There's nothing worse than having to dump out a warm beverage because a toddler didn't drink it right away, so having a cup that keeps drinks cold up to twice as long is a huge help for anyone that has a child that's not a speedy drinker. And the fun kid-friendly designs of the cups are always a plus; the one I received has a fun jungle theme that's so cute for boys and girls alike!
Playtex wants you to see what you think of the new sippy cup designs too, so the company is very generously offering one lucky Mommy Kat and Kids reader their own Playtex PlayTime sippy cup, a $6.99 value! To enter to win, just leave a blog comment about whether or not your little one currently uses a sippy cup.
Whether your baby is just starting to use a sippy cup or has already mastered the concept and is now drinking from a straw, Playtex has options that you and your child will both love. And all the cups are BPA-free and dishwasher-safe too! Visit the Playtex Mom Trust to see what other mothers thought about these new cups and then pick the perfect one for your child. No matter which cup your child uses, you'll love the leak-proof design that means less mess for you and the options that help your child transition through different stages as they grow!