Mother's Day is just a few days away and if you're still on the hunt for the perfect gift, Breville Canada is here for you! With an assortment of powerful and stylish kitchen appliances that are perfect for every mom's tastes, choosing the best one for your mom is the only decision you'll need to make this year!
For the Busy Mom – Breville Quick Touch Microwave (BMO734XL) – ARV: $299.99
Breville's new Quick Touch microwave oven takes the guesswork out of cooking. This new, easy-to-use microwave knows the right power level and time that best suits your food, so you don't have to endure rubbery chicken, overcooked lasagna edges, or exploding oatmeal. The Breville Quick Touch microwave has smart settings with an easy-to-use interface, including Smart Cook, Smart Reheat and Smart Defrost. These settings each include a list of popular foods. Simply scroll through the list, enter the weight and press start. As with many Breville appliances, the Quick Touch also has the A Bit More button that will add some additional time as required.
For the Health-Conscious Mom: Breville Juice Fountain Elite (800JEXL) – ARV $399.99
Get into the world of juicing with the no-nonsense Breville Juice Fountain Elite. With easy, lightning-quick operation and simple clean-up, healthy living starts here. For commercial performance, this home kitchen appliance provides 1000W power up to 13,000 RPM for up to 30% more juice than traditional juicers. Over 40,000 filtering pores ensure smooth and delicious refreshment. Breville's patented Nutri Disc™ stainless steel filter basket and patented juicing system that will extract more nutrients than other juicers and transfers less than 1.8°F of heat to protect enzymes and maximize nutrient absorption.
For the Mom that Needs a Break: Breville Tea Maker (BTM800XL) – $299.99
The Breville One-Touch Tea Maker takes the frustration and guess work out of tea, as each type of tea has an ideal temperature and steeping time. The secret is a fully automated magnetic tea basket that lowers into the water once the water reaches the ideal temperature. It then silently cycles in and out of immersion, gently agitates the leaves to precisely infuse your tea. Once the tea is ready, it brings the basket back up so you never risk over-steeping your tea. To get the right taste every time, select from five pre‐programmed tea settings: green, black, white, oolong and herbal teas. A "custom" button allows users the option to select their own unique temperature and steeping time. Tea connoisseurs can also indicate whether they prefer strong, medium or mild tea. It also has a 'kettle' mode that allows your Tea Maker to function as a variable temperature kettle.
For the Comfort Food Mom: Breville Smart Waffle 2-Slice (BWM620XL) – $249.99
Whether topped with ice cream, drizzled with maple syrup or served with tasty fried chicken, Breville's Smart Waffle lets you enjoy delicious, sweet or savoury waffles without the mess of overflowing batter and hard‐to‐clean surfaces. Its unique moat design collects and transforms excess batter into snackable waffle fingers for easy clean up and no waste. And, with its Waffle IQ, expect nothing but exceptional cooking consistency and the waffle of your choice, every single time. The Breville 2-slice square Waffle maker is equipped with an LCD interface, smart crispiness/darkness control so you can crisp your waffles to perfection. The timer allows you to track the progress of your waffles. The high quality non-stick surface allows you to easily remove your waffles and makes it easy to clean. Enjoy fluffy waffles either sweet or savoury in no time!
For the Margarita Mom: Breville Hemisphere Control Blender (BBL605) – $269.99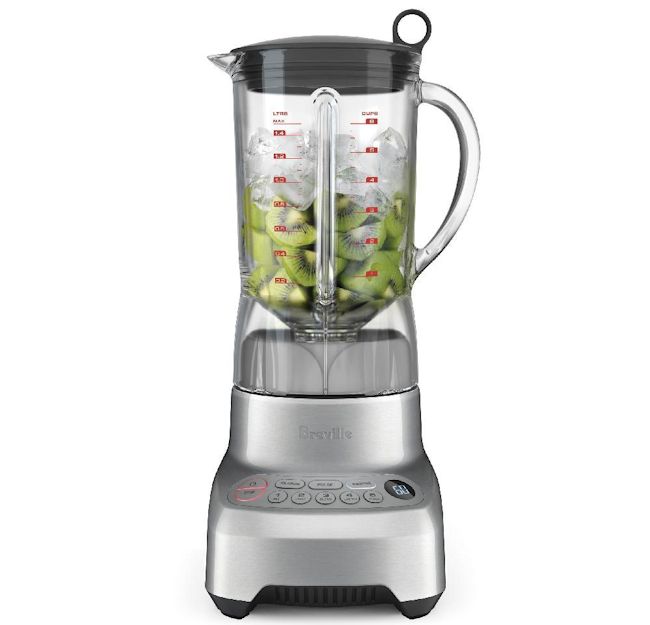 Breville's new Hemisphere Control Blender is built to withstand years of use with its permanent hemisphere blade and bowl system. With its non-conventional design, the four serrated blades in the centre draw ingredients downwards while two smooth wide sweeping blades hug the bottom of the jug pushing ingredients upwards to blend, crush ice, chop, whip and aerate with its eight task controls, five variable speeds and three pre‐programmed functions such as Ice Crush, Smoothie and Auto Pulse. The surgical grade stainless steel blades will ensure this blender works at its best for years to come.
While I'm certainly a fan of comfort food, I've been putting a lot of emphasis on healthy eating in 2014 and with the season of fresh, organic vegetables quickly approaching, the Juice Fountain Elite was what caught my eye in this fabulous collection of Breville appliances. Breville Canada very generously sent me one to test out and after just a few uses, I am in love! Being able to juice a combination of fruits and vegetables to make healthy drinks for myself and my boys has become a new obsession and since I had organic vegetables from last summer in the freezer, I've found a new way to use them up!
My personal favourite juice combination so far is carrot, beet and apple with just a touch of fresh ginger. It's great for detoxifying the body thanks to the high fibre content of the root vegetables, and both ginger and beets are liver purifiers as well. Best of all, the slight spiciness of the ginger paired with the sweetness of the apple is absolutely delicious!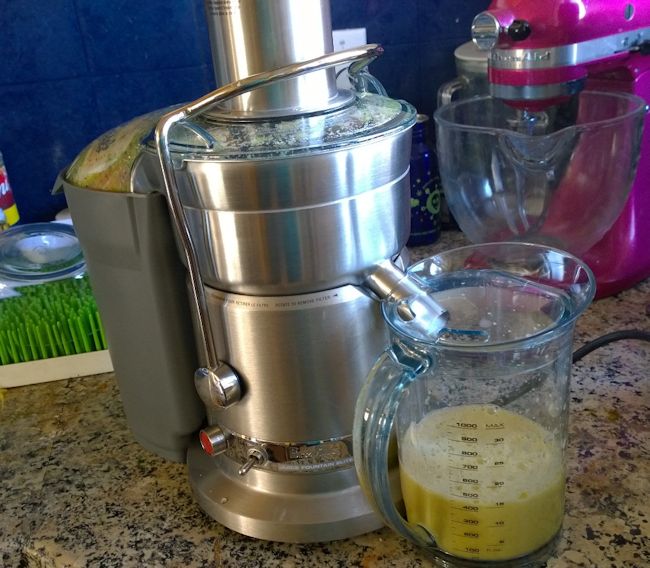 Whether your mom wants to whip up a refreshing summer smoothie or spoil her family with gourmet waffles, Breville Canada has the appliances to help her get the job done with ease.
And the powerful, high-quality items are sure to be loved and used for years too! Find them at major stores across Canada and give mom the perfect gift this Sunday!