Before I had kids, I loved using Silk Original Vanilla soy beverage in my coffee and cereal instead of milk. But since it was slightly sweetened, it wasn't the best choice for cooking savoury dishes and keeping two different products in the refrigerator just didn't make sense to me.
Silk beverages have expanded their line a lot since then and so when I was given the opportunity to create some tasty recipes using Silk products and vegetables that flower, I couldn't wait to see what I could whip up. The low calories, calcium and essential vitamins in Silk products are such a great addition to a healthy lifestyle and I was already beaming at the prospect of adding them to my diet again.
As a huge fan of the cruciferous vegetables, I decided that I wanted to create a recipe featuring broccoli. There's nothing I love more than a delicious bowl of soup and cream soups are my absolute favourite. But they do tend to be heavy on fat and calories, and what if you're vegan, lactose intolerant or allergic to dairy?
This delicious dairy-free Broccoli Soup is the perfect solution! Using Silk Original Almond beverage and fresh vegetables, it has a rich, creamy flavour as well as calcium and Vitamin D for extra nutrition.
I decided to use the Silk Almond Original for this recipe because I thought that the hint of sweetness in the beverage would pair well with the savoury broccoli and onions to bring out the flavours, and it was definitely a good decision.
This soup is rich, creamy and filling with an incredible flavour, yet contains no dairy whatsoever. Vegan and gluten-free, it's a perfect choice for those on restricted diets. While broccoli soup is generally topped with grated cheese for extra flavour, I topped mine with chopped bell pepper instead and it was absolutely delicious.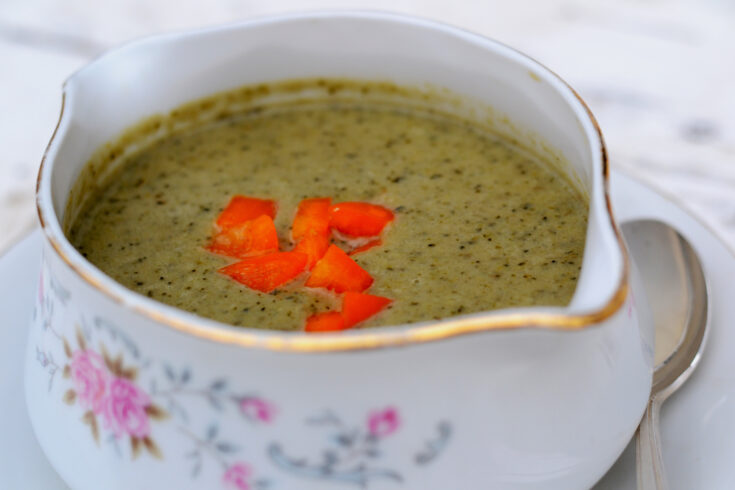 Best of all, this vegan cream of broccoli soup is incredibly easy to make! In about 45 minutes I was sitting down to enjoy a delicious bowl of healthy homemade soup loaded with calcium and vitamins. The recipe made plenty so that the boys and I could enjoy it in coming days, too. For a fun variation, replace the broccoli with an equal amount of cauliflower.
Looking for other dairy-free recipes? This easy non dairy ice cream will be a hit with the whole family!
Dairy-Free Cream of Broccoli Soup
A delicious and flavourful creamy soup that's gluten-free, dairy-free and vegan!
Ingredients
1 ½ cups chopped celery
1 cup coarsely chopped onions
1 ½ lbs. broccoli, chopped
¼ cup extra virgin olive oil
2 cups vegetable broth
2 ½ cups Silk Almond Original beverage
Salt and pepper, to taste
Instructions
Heat oil in a soup pot over medium heat. Add celery and onions and cook, stirring, until tender.
Add broccoli, chicken broth and 2 cups Silk Almond Original beverage. Turn heat to high and bring to a boil.
Reduce heat to medium-low and simmer, covered, until broccoli is very tender, about 25 minutes, stirring occasionally.
Using a food processor or immersion blender, process until smooth. Return soup to pot and stir in remaining Silk Almond Original beverage.
Heat through and season to taste with salt and pepper.
Nutrition Information:
Yield:

8
Serving Size:

1
Amount Per Serving:
Calories:

128
Total Fat:

8g
Saturated Fat:

1g
Trans Fat:

0g
Unsaturated Fat:

7g
Cholesterol:

0mg
Sodium:

268mg
Carbohydrates:

13g
Fiber:

4g
Sugar:

6g
Protein:

3g