Even though I'm out and about a lot, a landline house phone is still something I find essential. For over a decade now I've had a set of three Panasonic cordless phones in my house as my landline units but as much as I loved them, I knew I was due for an upgrade. Luckily, Panasonic came to my rescue by giving me the chance to review its brand new Panasonic DECT Premium Design Series of cordless phones. I received the Panasonic KXPRD262 Dock Style Telephone model to review and I couldn't wait to try out the new features the phone had to offer.
I decided to put the main base in the living room and the secondary base in my bedroom. I plugged in the phone bases, added batteries to the handsets and put them on the bases to charge. Just like that, my phones were ready to use! I made a call immediately to test out the system and thanks to the DECT 6.0 Plus technology, the phone had the perfect, crystal-clear sound that I've come to expect from Panasonic.
But that's just the start of what makes this new cordless phone system so amazing! What I was most excited to test out was the phone's ability to sync with my smartphone so that I could stay better connected both at home and on the go. Syncing my phone was easy; I simply used the Bluetooth setting on my phone to connect the phone to the handset. Then I was ready to take advantage of all the benefits of increased connectivity!
The biggest advantage of linking a smartphone to my system is that I can then make or receive smartphone calls using my Panasonic DECT KXPRD262 handsets. I also receive a notification on the handset when I receive a text on my smartphone! Since I often leave my phone in another part of the house and don't hear the text chime as a result, this was a feature that I absolutely loved!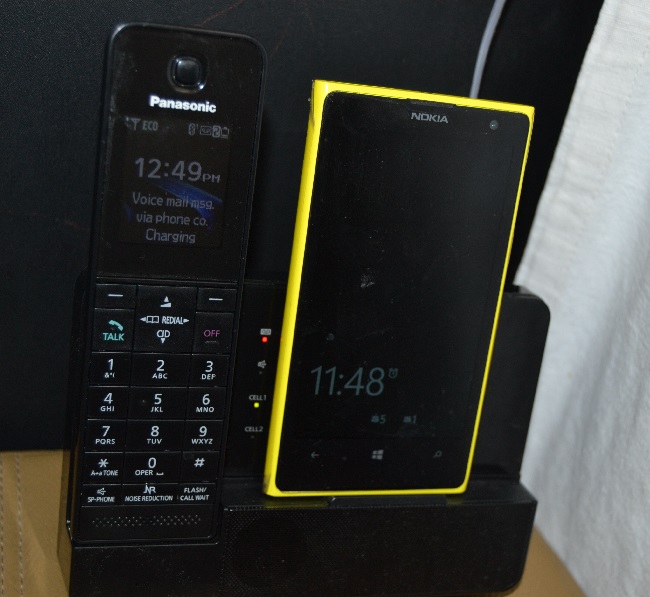 Even better, the Panasonic DECT KXPRD262 model features a USB charging port for my smartphone so that I don't have to hunt for my charger, and a streaming feature that allows me to play my favourite music from my smartphone on the base's speaker system! Now that's a great way to combine fun and function!
To top it all off, the Panasonic DECT KXPRD262 model features a clear backlit handset display for better clarity, talking Caller ID so you know who's calling even if you're not by the phone and an optional Key Detector that attaches to your keys and lets you find them from up to 200 yards away using your phone! This Panasonic DECT cordless phone system even offers Enhanced Noise Reduction that allows you to supress background noise and enhance the caller's voice, so that when you receive a call from somebody in a noisy or crowded area, you can actually hear what they're saying!
Panasonic wants to give you the chance to test out its new Panasonic DECT Premium Design Series of cordless phones for yourself, so the company is very generously offering one lucky Mommy Kat and Kids reader their own KXPRW120 model from the Panasonic DECT Premium Design Series, a $170 value! To enter to win, just leave a blog comment about which feature of the new Panasonic DECT Premium Design Series phones you would find most useful!
I've always loved Panasonic cordless phones but this new line is really something special. The enhanced connectivity, smartphone integration and wide range of features have made this cordless phone system my newest essential. In fact, I've already been able to respond immediately to a few texts that I wouldn't have heard without my new Panasonic DECT KXPRD262 phones! If you need a house phone that goes above and beyond to keep you connected, you can't go wrong with the Panasonic DECT KXPRD262 and KXPRW120 cordless phones, or any of the other fabulous phones in the Panasonic DECT Premium Design Series. Pick out the best one for your family today and enjoy the convenience and connectivity of Panasonic's premium cordless phones! For more information, visit Panasonic.ca.
a Rafflecopter giveaway