When cooking with vegetables, it's only natural that most people immediately think of savoury dishes instead of sweet ones. But I'm a big believer that vegetables can be much more versatile than that, and so when I set out to create a recipe with Silk products and vegetables, I decided that I would find a way to also use my all-time favourite flavour – chocolate.
Nothing puts a smile on my face more than being able to add extra nutrition to a treat, and with Silk beverages and the right vegetable, I was sure I could do that. The warm weather acted as my inspiration and I used Silk Coconut Unsweetened beverage and kale to create a Dairy Free Kale Fudgsicle recipe.
These rich and creamy popsicles are a chocolate-lover's dream come true with a fudgy flavour and tons of nutrition. Boasting calcium, fibre and Vitamins A, C, D and K, these refreshing treats are ones that you can feel good about eating when the weather gets hot!
I have to admit, I was a little hesitant about how these fudge pops would taste, but with one bite I knew that the recipe had been a success. The kale adds a unique texture to the popsicles, but the taste isn't noticeable at all. Best of all, when I gave each of my boys one of the Flowering Kale Fudge Pops to try, they loved the treats as well! The entire family got some added nutrition in their diet thanks to this recipe.
What surprised me most of all was how creamy and decadent the pops turned out: I'm sure the Silk Coconut Unsweetened beverage in the recipe was responsible. It was the perfect choice for the smooth texture and flavour I wanted for the mixture and added its own subtle and delicious flavour to the chocolate as well.
Next time I think I may make these pops with Silk Almond Unsweetened just to see if I notice a difference in the flavour. But one thing is certain, I'll be making this fudgsicle recipe again and again! Nutrition plus chocolate is always a win in my book!
Looking for other kid-friendly healthy treats? These Fresh Fruit Pops are quick to make and kids love them!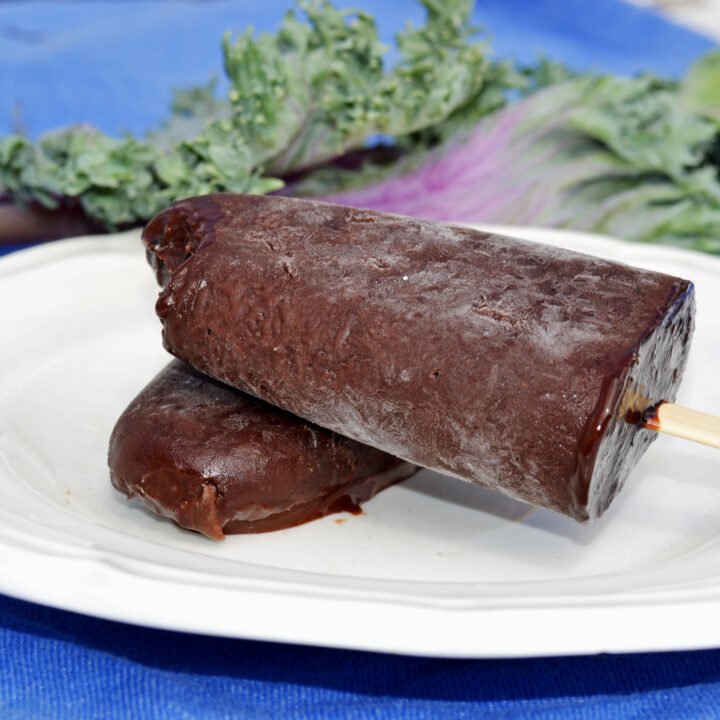 Flowering Kale Fudge Pops
Total Time:
6 hours
10 minutes
Delicious frozen fudge pops perfect for cooling down on a hot day and loaded with extra nutrition thanks to the addition of kale!
Ingredients
1 cup granulated sugar
1 cup Dutch Process cocoa
2 cups Silk Coconut Unsweetened beverage
1 tsp. cinnamon
1 cup flowering or regular kale leaves, torn
Instructions
In medium saucepan, combine sugar, cocoa and cinnamon until mixed. Gradually stir in Silk Coconut Unsweetened beverage.
Bring to a boil over medium-high heat, stirring frequently. Reduce heat and simmer 3-5 minutes, stirring frequently, until mixture is smooth and thick.
Remove from heat and cool to room temperature.
Place kale in food processor and pulse until finely chopped. Stir kale into chocolate mixture until thoroughly combined.
Pour mixture into ice pop molds and insert sticks. Freeze approximately six hours, until frozen solid. Keeps for up to three weeks in freezer.
Nutrition Information:
Yield:

8
Serving Size:

1
Amount Per Serving:
Calories:

167
Total Fat:

3g
Saturated Fat:

2g
Trans Fat:

0g
Unsaturated Fat:

1g
Cholesterol:

0mg
Sodium:

38mg
Carbohydrates:

33g
Fiber:

3g
Sugar:

25g
Protein:

3g