One of the first things I do when spring arrives each year is pull out my family's bicycles, and once they're in the front yard, we are all out riding almost every chance we get. Last year, Benjamin rode in a bike trailer when we went on long rides. But this year he's old enough to ride a two-wheel bicycle with training wheels right beside his brother and me.
If I had my way, I would bike everywhere. But there are times when I need to be able to carry more than I can safely manage on my bicycle and so when MammaCangura gave me the chance to review one of its fabulous bicycle products, I knew exactly which one I would choose.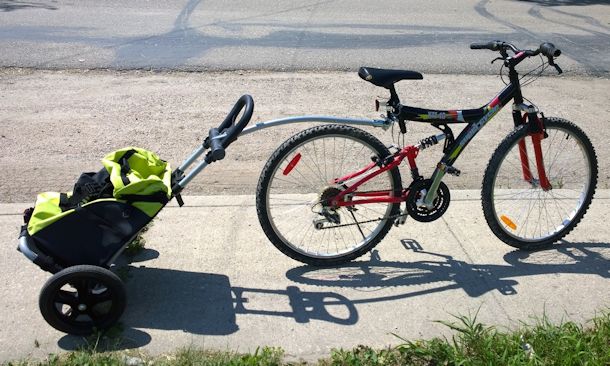 MammaCangura is a Montreal-based company that offers top-quality Italian-made child carriers, bike trailers and balance bikes for toddlers. The assortment of trailers and carriers for biking with infants had me wishing I had known about this company when my boys were younger! But then I saw the B-Tourist bike trailer and I knew it was exactly what I needed to be able to make my bike even more versatile.
This handy carrier is great for toting everything from groceries to camping supplies. It connects easily to the back of a bike using a clipping device that attaches to the seat bar, and can then be towed around as needed to carry all kinds of gear. But the innovative design also allows the B-Tourist to be pulled by hand! Just lower and secure the bicycle bar so it's out of the way, grab the handle and you're ready to go!
The carrier itself is made of sturdy nylon mounted on a lightweight tubular base and features a drawstring top and clips to close the cover. With the ability to carry up to 55 lbs, gear is always safe and secure in this bag! And to add even more versatility, the bag can be unclipped from the base and used on its own too!
MammaCangura wants to help you enjoy a little more time on your bike this summer, so the company is very generously offering one lucky Mommy Kat and Kids reader their choice of either a B-Tourist bike carrier for toting essential gear or a B-Taxi bike carrier for carrying your child, up to a $700 value! To enter to win, just leave a blog comment about which one you would choose if you won!
Since receiving the B-Tourist, I've been able to use my bike for so many different errands. I used to walk to the post office because I so often would have to carry a large box home. Now I can ride my bike and still get boxes back safely. And when picking up groceries for the week, I can leave the car at home, save my gas money and carry food back to the house in the B-Tourist. When I can save money, get some exercise and do something I love all just running errands, I am one happy woman!
Whether you need a top-quality child carrier for your bike itself or a trailer for your child or all your essential supplies, you can't go wrong shopping at MammaCangura. And when your little one is old enough to start learning how to bike, the sturdy B-BIP Balance Bikes will have your child riding on their own in no time. Check out the fabulous array of products available and find the best one for your lifestyle. You'll love how much more versatile biking can be with the right trailer or carrier!
a Rafflecopter giveaway