I've tried a lot of vacuums over the years and I've been pleased with their performance for the most part. But the Dyson Animal line of vacuums was one that I'd heard people rave about over and over again, so even though I was content with the machines I had, I have to admit that I wanted to give a Dyson a try. Recently, I got the chance to do just that when Dyson offered me the chance to review its brand new Dyson DC66 Animal vacuum!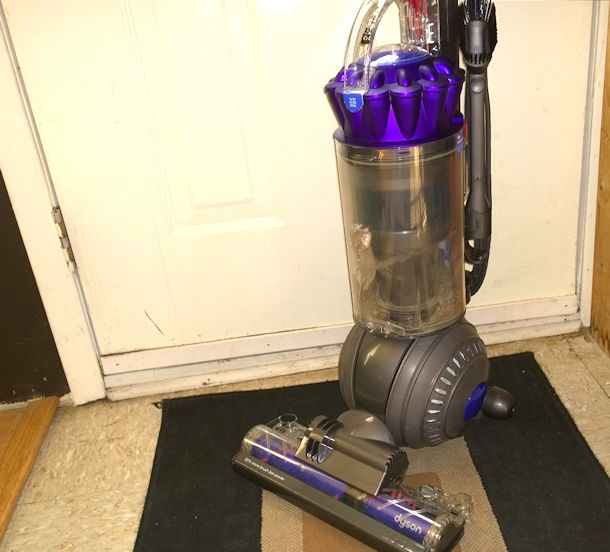 Now our house doesn't have a lot of carpet. In fact, I'd say that the floors are about half carpet and half laminate, for the most part. So one of the things I was especially excited to see was that the Dyson DC66 Animal could be used on hard floors as well. I simply pressed a button to turn off the brush and the self-adjusting cleaner head lowered to the perfect height for the floor. Then I could take advantage of the powerful suction of the vacuum to sweep my hard floors clean in a flash!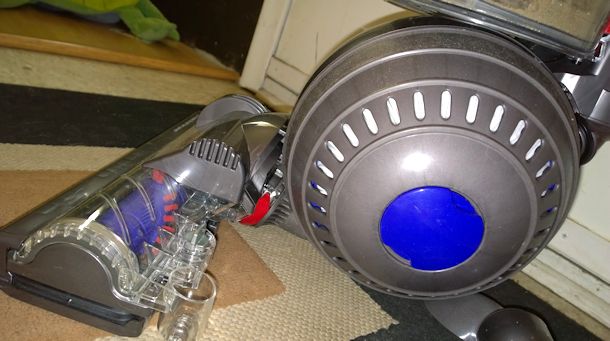 I also loved finally being able to try the coveted ball steering technology. I have to admit that I really didn't have a problem manoeuvering the other vacuums I've used. But the ball is one of those features on a vacuum that makes you realize how much easier life can be once you've tried it. Moving this vacuum around the house is an absolute breeze, and now that I've used it, I would never want to go back to a different vacuum.
The vacuum included so many different attachments. In addition to a few standard attachments including a stiff bristle brush and a stair cleaning tool, the vacuum came with a unique tangle-free turbine tool for removing hair and dirt ground deep into carpet and upholstery. Since my family has a history of allergies and one of the boys' cousins is allergic to cats, having a way of cleaning up pet hair efficiently is something I really appreciate. And the tangle-free design ensures that there's no cleaning of the tool required afterwards!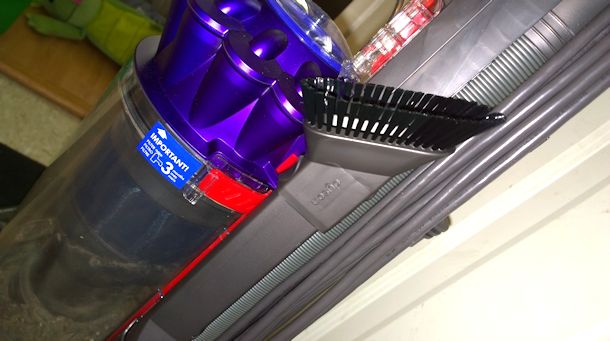 Top that all off with an acclaimed design that's guaranteed to never lose suction and a 25% power increase compared to the previous Animal line of vacuums, and you've got a machine that's guaranteed to become one of your favourite household appliances. In fact, thanks to the Dyson DC66 Animal's incredible versatility, I am almost able to retire my tiresome broom and dustpan when cleaning my hard floors!
To say that this vacuum is worth its higher cost compared to a more basic model is a given for anyone that's passionate about getting the very best clean. And while the extra accessories and ease of use were features I loved, for me it was really that higher level of suction that made the Dyson DC66 Animal worth every penny. Keeping an old house clean is a never-ending job (especially with kids in the house) but Dyson makes it a lot easier with suction that can get down deep and remove built-up dirt for the best clean possible.
I am not the type of person that gets excited about cleaning. But I have to admit that using the Dyson DC66 Animal is so satisfying that even I get a fair bit of enjoyment just cleaning my floors. Removing all that deep-down dirt doesn't just mean my house is cleaner, it means that my boys and I are less likely to have our mild allergies aggravated and my niece can explore the house without fearing a reaction from cat hair. What's not to love about that? If you've been dying to experience the Dyson difference, this versatile machine is a great way to do that. Give it a try and see what you think of the power and versatility of the Dyson DC66 Animal!