When my oldest was a baby, I never would have thought about getting a video baby monitor. It would have seemed like a somewhat needless expense when I was with my son so much anyways and when I already had a standard audio monitor to use when he was sleeping. But I never realized just how often I would think that I'd heard my son through the monitor, only to rush upstairs and discover that he was still sleeping.
That's why ever since, I've been a huge advocate for video baby monitors. I've seen a few being used and the ease and security they provide are absolutely priceless. No more wondering if you really did hear your baby, because you can check the video and confirm he's awake. And while a basic video monitor is great, there are also some with a variety of other features that will make them an essential in your house in no time!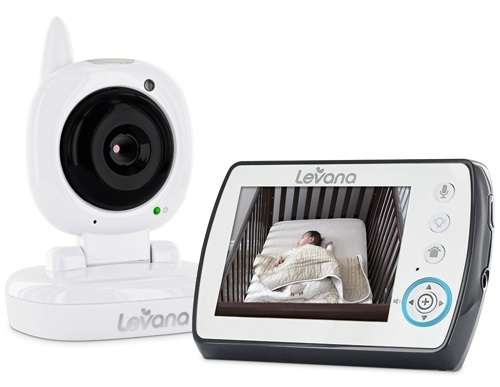 I recently received one such video baby monitor to review, the Levana Ayden Video Baby Monitor. Levana takes child safety seriously and I saw that firsthand when I reviewed the company's Oma Movement Monitor a short time ago. Its new Ayden Video Baby Monitor is a perfect example of the company's commitment to a parent's peace of mind and I couldn't wait to check it out.
The monitor features a bevy of parent-friendly features including a 48-hour battery life when being used in power-saving PEEP mode, night vision up to 15 feet, temperature monitoring and a Talk to Baby two-way intercom. With an optional nightlight and lullabies, it's not just a great way to keep an eye on your baby, it also allows you to soothe baby back to sleep without having to get out of bed yourself.
Personally, one of my favourite features is the fact that the Ayden monitor is expandable up to four cameras. I realized shortly after discovering video baby monitors that one of their biggest advantages is the fact they can be used to monitor older children as well. I currently have the monitor set up in the living room so that when I'm working upstairs I can still make sure my boys are behaving. Expanding that system with additional cameras would let me ensure that my boys were secure anywhere in the house!
The Levana Ayden Video Baby Monitor is available now on mylevana.com and is a great gift for new parents and a must for any family. Check out the full range of Levana video baby monitors on the website and find one that's a great fit for your growing family!