There is nothing that makes me happier than capturing a great image of my boys. And often, my favourite pictures are ones I take during fleeting everyday moments. Taking a decent picture of Benjamin with the perfect smile or Zackary whizzing down the street on his bike isn't as easy as it sounds and when I succeed in freezing one of those fleeting moments in time, I want to show it off.
Recently I had the chance to do just that by turning some of my favourite Instagram images of everyday moments into wall art and other photo products at BLACKS.CA. As I just painted and renovated my living room last year, I'm still perfecting its décor and I was so excited to have the chance to add some fun and meaningful artwork of my boys' special moments to our walls.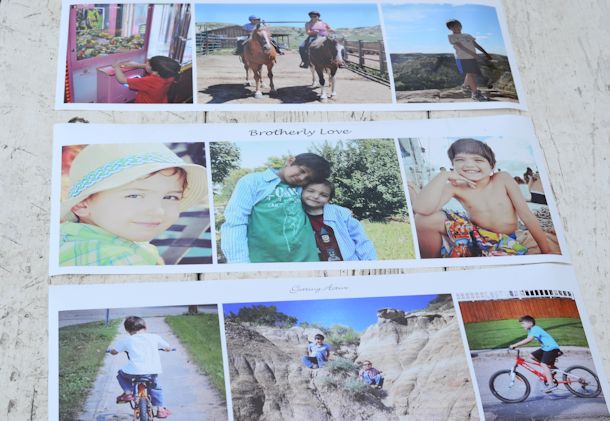 I decided to create three Made for Instagram collages, and give each one a title and a theme. I loved the option of adding text to the collages and captioned each one with a simple phrase to fit the images. The first featured bikes and horseback riding with the caption "Getting Active." The second contained images of my boys' smiling faces with the caption "Brotherly Love." And the final collage had images of my boys climbing, posing and playing a claw game with the caption "Summer Playtime." With simple white frames, these collages are going to be a great focal point on my wall!
I also created a Photo Plaque, one of the brand new pieces of Wall Art available at BLACKS Photography, in a 16×16 inch square. The nice thing about this size is that while it works for any image, it's especially great for an Instagram picture since it's in the same square shape. I chose a picture of my boys sitting together on a rock wall looking out at the scenery, an image I captured on a recent road trip. I chose a white edge for my plaque to contrast with the dark brown paint in the living room and the finished result was stunning!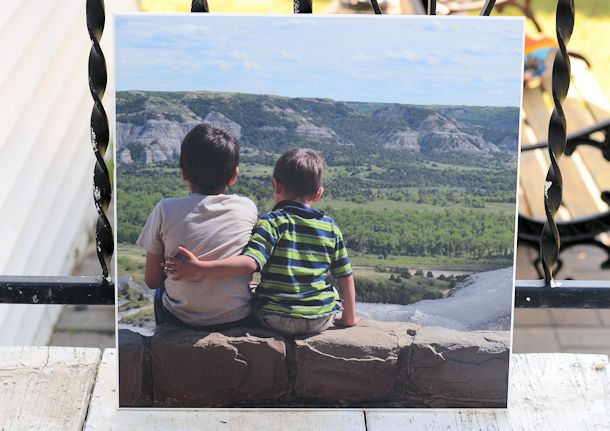 The process of shopping online at BLACKS.CA was fun and easy, though with so many amazing photo products to choose from, deciding what to create was more difficult than I expected! I really appreciated the way the site was organized so that I could browse either by different product types or by finding items for special occasions. Choosing the perfect piece of Wall Art from the many metal, canvas and acrylic options took a bit of thought but the new Photo Plaque was the perfect choice for me.
My everyday moments look so amazing now that they've been printed and framed by BLACKS Photography and I can't wait to capture even more of my family's memories so that I can create some new pieces for other areas of the house. The master bedroom is in serious need of a little dressing up and I know each of my boys would love to have a special picture of their own in their rooms. Luckily, when the perfect moment arises and I capture that special image, turning it into the perfect décor piece for our house will be a breeze thanks to BLACKS.CA!
BLACKS believes pictures are too important to be left on a smartphone or a computer screen; they need to be brought to life, displayed, shared and celebrated. BLACKS is transforming into an inspiriting one-stop destination where you can express yourself through pictures on the NEW BLACKS.CA, on the BLACKS App and in-stores to help you take your pictures further. Visit the NEW BLACKS.CA today to get inspired.
This post was brought to you by BLACKS via Mode Media Canada. The opinions expressed herein are those of the author and are not indicative of the opinions or positions of BLACKS.