As somebody that is fairly health conscious, but also shuns artificial ingredients in my food, I've been a fan of Pure Via sweetener since it was first introduced in Canada. This naturally sourced option is made from an extract from the leaves of the Stevia plant and provides low-calorie sweetness that doesn't cause fluctuations in blood sugar levels.
Pure Via sweetener is available in a granulated form that I love for baking and for sweetening my coffee in the morning. But the granulated version doesn't dissolve very well in cold beverages, so I was pretty excited when the brand new Pure Via Stevia Liquid sweetener was introduced! The liquid version of my favourite low-calorie sweetener dissolves instantly in both hot and cold liquids and comes in a handy portable bottle with a no-drip lid perfect for a busy mom.
To let people see for themselves how delicious new Pure Via Liquid is, the company developed some fabulous and delicious cold beverage recipes perfect for a hot day. While autumn may be here, Saskatchewan is still enjoying plenty of warm, sunny days so I decided to test out one of the recipes and see how I liked it. And of course, as a confirmed coffee addict, I couldn't resist whipping up a Creamy Salted Caramel Latte!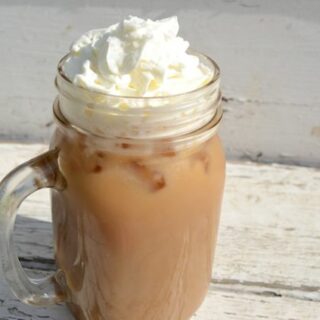 Creamy Salted Caramel Latte
A delicious low-calorie coffee drink perfect for a hot summer day!
Ingredients
3/4 cup 175 mL strong brewed coffee, cooled
1/4 cup 50 mL 1% milk
3 tablespoons 45 mL sugar free caramel topping
2 teaspoons 10 mL Pure Via Stevia Liquid Sweetener*
1/4 teaspoon 1 mL vanilla extract
2 teaspoons 10 mL lite prepared whipped topping
Dash coarse sea salt
Instructions
Combine coffee, milk, caramel topping, Pure Via and vanilla.
Whisk until well blended.
Serve over ice, topped with whipped topping and a sprinkle of sea salt.
Notes
If desired, substitute 2 packets Pure Via Sweetener for the liquid product.
Nutrition Information:
Yield:

1
Serving Size:

1 grams
Amount Per Serving:
Calories:

159
Unsaturated Fat:

0g
Cholesterol:

11mg
Sodium:

515mg
Carbohydrates:

34g
Protein:

2g

Because I do prefer natural sweetness in my drinks, the only change I made to this recipe was to use regular caramel syrup rather than the sugar-free version called for in the recipe. While it does increase the calorie count of the drink a bit, the Pure Via Stevia Liquid sweetener still makes this a healthier drink choice than the creamy iced drink I'd normally buy at a coffee shop. And when I don't have time to make a tasty beverage before leaving the house, I can now just order my drink without added sweetening and use the little bottle to naturally sweeten it to perfection!
If you're longing for natural and low-calorie sweetening for your own drinks, Pure Via is here to help! The company is very generously offering one lucky Mommy Kat and Kids reader their very own Pure Via prize pack worth $150! To enter to win, just check out the delicious drink recipes on the Pure Via website and leave a blog comment about which one you'd most like to try.
What I love so much about the new Pure Via Stevia Liquid sweetener is that not only is it a natural choice for low-calorie sweetening, but it's convenient too. In fact, I actually have one bottle in my purse for sweetening drinks on the go and one in my cupboard for my at-home beverages. I'm always able to add just the right amount of sweetness to my drinks and I can do so anytime. Convenience like that is a dream come true for this busy mom! Find Pure Via Stevia Liquid sweetener at grocery stores across Canada now and see for yourself how easy and delicious natural and low-calorie sweetening can be!
a Rafflecopter giveaway