One of the best Canadian cities for family fun is Edmonton, Alberta, and that's partly because of all the great attractions at the West Edmonton Mall. From the Galaxyland Amusement Park to the World Waterpark to the Ice Palace indoor skating rink, there's so much to do for parents and kids alike! And of course, the West Edmonton Mall is always innovating so there's always something new to see.
Visiting the large main attractions does tend to take up most of the day though, so when you just want to spend an hour or so doing something together as a family, the West Edmonton Mall has plenty of activities to choose from. These were our top three picks for quick and entertaining family fun: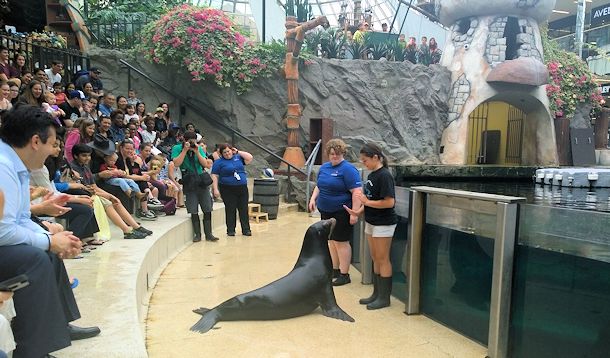 While many mall-goers watch this show for free by looking down from the second floor of the mall, it is well worth the price of admission to get up close to these amazing and talented sea lions. My boys are big animal fans, so they loved watching the sea lions jumping, sliding and playing throughout the show. And I appreciated that the commentary included plenty of educational content to help my boys learn more about the animals as they watched! The mall features daily shows at 2pm and 4pm.
Dragon's Tale Blacklight Mini Golf
This new attraction takes mini golf to a whole new level with blacklight lighting and a fantasy theme. Shooting the glowing balls through the course definitely makes the game more interesting for younger children. Zackary and Benjamin especially loved the obstacles in the course that would often carry their balls away and drop them somewhere completely different. Just be careful at the end of the course. If you get a hole in one and wake the sleeping dragon, his roar may cause little ones to jump!
Ed's Rec Room
For a little active indoor fun nothing beats bowling, especially with kids that are new to the game! Ed's Rec Room offers ten-pin bowling for all ages, a great way to burn off some excess energy. Even better, kids can entertain themselves playing on one of the forty arcade-style games offered as well! While Zackary and Benjamin enjoyed their experience bowling, it was the arcade games that were the real attraction for them. And while they played, I was able to enjoy a relaxing drink before heading out to explore the mall a little more!
Whether you visit the West Edmonton Mall to indulge in some retail therapy or to spend a day at one of the large attractions, taking time to visit one of these quick and entertaining areas in the mall is sure to be a fun experience. Make sure to check them out the next time you're in Edmonton!