I still remember when I got my first smartphone. It was an HP Palm Pre 2 and while it had a lot of cool features, it didn't have the large app library and added functionality that iPhone and Android products offered. Still, I used the phone for all kinds of different notes, sharing and schedules and I would have been in a panic if I had lost it.
In fact, I once thought my phone had been stolen after a dinner with family and I broke down in tears almost immediately. Luckily, somebody in the van we had been driving heard a buzzing in the seat of the vehicle and discovered my phone pushed down in the seat cushions. Since the sound had been turned down, I had thought it was gone. I was so happy to find it again!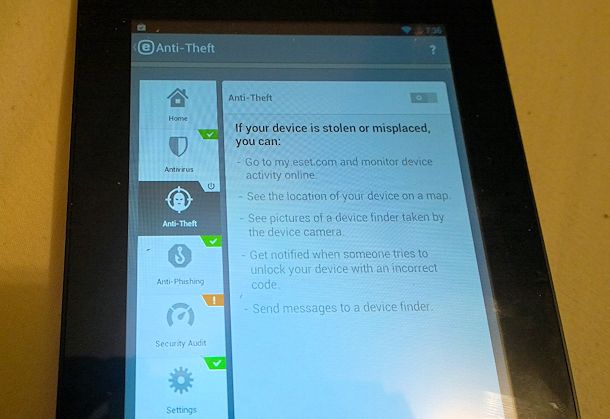 I've been through many phones since then and I use my current phone for absolutely everything. From scheduling appointments to paying bills to answering emails, my phone helps keep my business and my family organized. So the thought of losing it is so horrible that I almost can't imagine it. That's why discovering ESET was so exciting to me.
This security app for Android devices is multi-functional and protects devices from all types of potential threats, from phishing scams and viruses to invasive apps and permissions. But one of my favourite features of the app is the anti-theft feature. Once activated, it allows users to track their devices using GPS, remotely wipe all data off the phone, activate a siren if the device is lost or stolen, and even activate the camera remotely so that you can potentially see where your device is and who is using it!
Even just having the option of remotely wiping all data off my phone makes this app a worthwhile purchase in my mind, since my current phone does contain all my business emails and I do use it for banking. But ESET really goes above and beyond that by also offering features that increase the chances of retrieving a lost or stolen device. The idea that I could potentially discover who is using my device once it's been stolen is such a genius concept!
ESET is a PTPA award winning product and right now you can get it for a huge saving of 75% off the original price! Considering the peace of mind the app provides, it's worth every penny. And as if that wasn't fabulous enough, the company is also hosting an incredible giveaway! Enter using the form below for your chance at two amazing ESET prizes worth a total of $375!
Even if you don't use your Android device for business or banking, having a device stolen is never a pleasant experience. Thankfully, getting it back can be much easier with ESET installed! Check out all the amazing features of this app and protect your information and your devices with ease!
ESET Mom to Mom Challenge

Disclosure: I am part of the PTPA Brand Ambassador Program with ESET and I received compensation as part of my affiliation with this group. The opinions on this blog are my own.