Popcorn is one of those snacks that I tend to forget about unless I'm at the movies, but it's one of my absolute favourite treats when I do buy it. And while good old-fashioned buttered popcorn will always be something I love, I have to admit that I can't resist some of the tastier gourmet popcorn snacks available. So when I heard about the new Chocolate Peanut Butter Drizzlecorn from Popcorn, Indiana, I knew I had to see what it was like.
Popcorn, Indiana specializes in fresh, delicious popcorn in a variety of flavours ranging from sweet and salty Kettlecorn to traditional buttery popcorn to decadent Drizzlecorn. And considering the fact that October is National Popcorn Month and November is National Peanut Butter Month, this brand new popcorn treat was clearly something that was meant to be! I received a case containing a few varieties of Popcorn, Indiana popcorn including new Peanut Butter Drizzlecorn to review and I was so excited to experience the blissful combination of peanut butter, chocolate and popcorn.
Of course, Zackary and Benjamin weren't going to be left out of the taste-test either, so I poured half of the bag of popcorn into a bowl for the two of them and then took a handful of popcorn for myself. I am giving fair warning now…this popcorn is very, very addictive! After eating the first handful, I found myself taking another and another until I had finished off the rest of the bag. The crunchy popcorn drizzled with peanut butter and chocolate was just too good to stop eating once I started!
But luckily, this is one addiction I don't have to feel too bad about, because Popcorn, Indiana Drizzlecorn is gluten free, made with non-GMO corn and contains no artificial colours, flavours or preservatives. And when I'm in the mood for a different taste sensation, there are three other varieties of Popcorn, Indiana Drizzlecorn to choose from too: Black & White, Dark Fudge Chocolate Chip and Dark Fudge Sea Salt Caramel!
Craving some popcorn indulgence yourself? Popcorn, Indiana wants to help you satisfy your desire for something sweet with a decadent giveaway! One lucky Mommy Kat and Kids reader is going to win a case of 12 bags of assorted Popcorn, Indiana popcorn, a $75 value! To enter to win, just leave a blog comment about which variety of Popcorn, Indiana Drizzlecorn you would most love to try.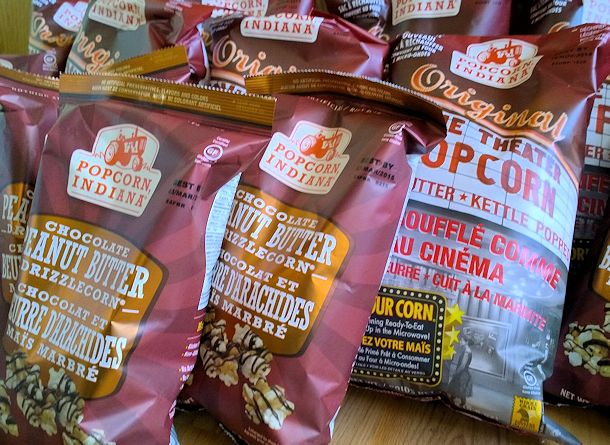 Chilly fall days are the perfect time to indulge in a sweet treat and the new Popcorn, Indiana Chocolate Peanut Butter Drizzlecorn is definitely my favourite new indulgence of the season. Find it at grocery stores across Canada and spoil yourself with the perfect flavour combination. Just don't be surprised if you can't stop eating it once you start!
a Rafflecopter giveaway