With winter weather here, it's time to make sure that your car is ready for the snow. I have to admit that aside from changing the oil, I used to often forget that I needed to do anything to be ready for winter driving. But then I learned that it really just takes a few simple steps to make sure that I'm ready to hit the road when the snow starts to fall. These are the three things that I make sure I always do as soon as the temperature drops below zero so that I'm ready to drive with confidence.
Stash a Safety Kit
Having a safety kit in the trunk of the car is handy any time of the year and a must during winter. My kit contains food, a candle, waterproof matches, a solar-powered flashlight, an emergency blanket, work gloves, booster cables and mini pylons. Every year I check to make sure that all the supplies are still there and working well, replacing them as needed. Luckily I haven't ever had to use that emergency blanket, candle or food, but knowing they are there makes me feel much safer about travelling in the winter with my boys. And the booster cables are something I have used on numerous occasions, both for my own car and to help others. No vehicle should be without them!
Check Your Tires
If there's one time of year that having good tires is essential, it's winter. For those with winter tires, a drop in temperature means it's time to get those tires on your car. If you use all-season tires like I do, then checking to make sure that your car's tires still have good tread is a must. It's also a great time to rotate your tires, which helps them to wear more evenly. It's a quick and easy maintenance job that is essential for ensuring your tires last as long as possible.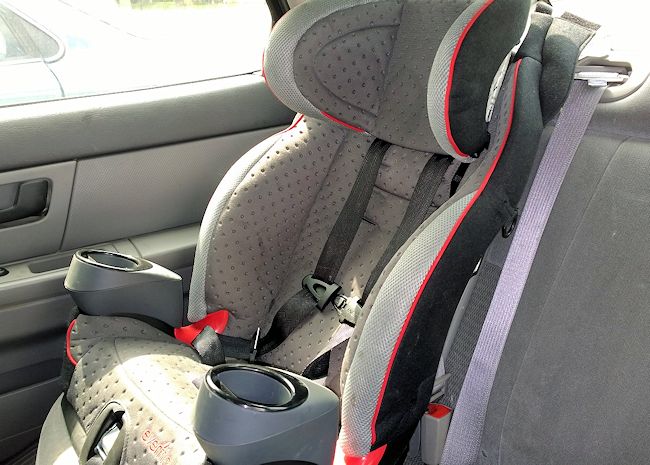 Keep Your Kids Secure
Because driving in the winter can be so much more dangerous than driving in the summer, especially in a province like Saskatchewan, making sure that kids are as safe as possible is always a good idea, and that means checking the car seat. I like to use the changing season as a time to check my son's Evenflo SecureKid DLX Harnessed Booster and ensure that it's still properly secured in the car and the straps still fit well. Since this seat is so versatile, I can make necessary adjustments to the seat as my son grows. In fact, it's suitable for children between 22 lbs. and 110 lbs! If you're using an older car seat, make sure to check the expiry date too and upgrade to a new seat if needed.
For the most part, I don't find driving in the winter much worse than driving in the summer. But I know that being prepared just in case of an emergency is something that could make a huge difference if disaster does strike. These three simple vehicles checks are ones that just take a few minutes, but it's time well spent to ensure my family's safety. Make sure your car is ready for winter and you'll be ready to head out feeling secure about facing the snowy weather!