If there's one thing I've gained a lot of experience with in the last few years, it's home renovations. And painting always seems to be a big part of that. Since buying the house in which I was raised, almost every room has been renovated and painted. The kitchen, bathroom, living room and both boys' bedrooms are now clean and modern with fresh paint and new flooring.
Having done so much work on the house, I know how messy and frustrating painting can be. In fact, I painted the entire living room by myself and it was a job that took days to complete. The results were fantastic, but there was a lot of mess to clean up afterwards. I couldn't help but think there had to be a better way and luckily for me, now there is: the Roll & Stow!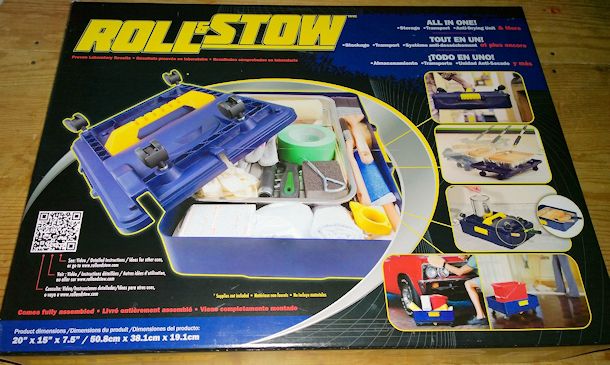 This innovative Roll & Stow stores, transports and organizes all your painting supplies to make painting and cleanup quicker and easier. The innovative top is one of my favourite features of the system. It snaps onto the storage container and the sturdy yellow handle lets me easily move it from one place to another. When I'm ready to paint, I take off the lid, flip it over, and put my painting tray inside. Since the lid also features four wheels, I can then easily move my paint tray from place to place as I paint!
Even better, the special sealing lid allows me to take a break from painting if needed and still keep the paint fresh. I can keep my paint and supplies in the Roll & Stow for up to one week without them drying out! The rolling base is also great for transporting water buckets and cleaning supplies when working in the garage or around the house.
If you have painting planned for your home, you won't want to miss this! One lucky Mommy Kat and Kids reader is going to win their own Roll & Stow system, a $48 value! To enter to win, just leave a blog comment about a DIY project you have planned that would be easier with a Roll & Stow!
With a rolling base that can transport up to 150 pounds, a carrying case that holds and transports 40 pounds of supplies and a design that makes painting easier and more enjoyable, this system is a must for anyone with home renovations planned. Find it at select stores across Canada and make those long, tiring painting and cleanup jobs a little less stressful!