Eco-friendly is a word that I think about a lot when it comes to things like food or cleaning products.
But I must admit it's not a word I've thought about much when it comes to personal care items like the bamboo products from Ecoy, or when it comes to fashion accessories.
So, when I heard about Canopy Verde, an innovative company specializing in eco-friendly and vegan bags, purses and clutches, I was intrigued.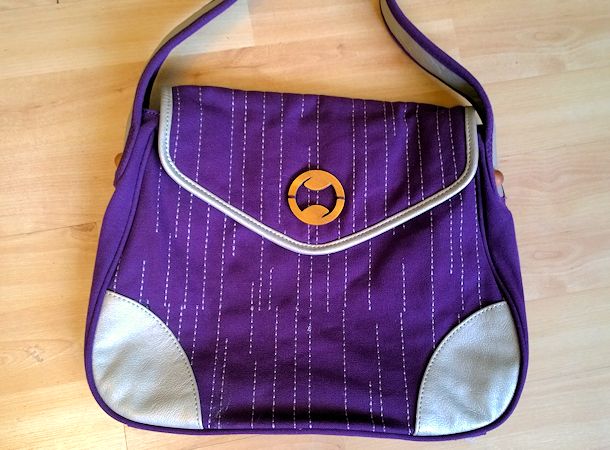 What appealed to me most as I browsed the site is that these bags are so incredibly fashionable as well as being earth-conscious.
Made with organic cotton, eco-friendly dyes and vegan leather, these bags are proof that caring for the environment doesn't have to mean sacrificing style!
I recently had the chance to review the Oleander Hobo bag and as soon as it arrived, I fell in love.
The beauty of these bags is in their details, and my purse was no exception. The deep purple colour was perfectly contrasted by gunmetal PVC-free vegan leather and silver stitching.
The bag closed with a simple and convenient magnetic clasp but also featured the brand's distinctive wood circle detail on the front and wood buttons on the side.
But while I loved the look of this purse, no bag is a win with me unless it's also convenient to use and there's no question Canopy Verde passed this test as well!
The purse featured a back slip pocket for easily grabbing quick essentials and a roomy interior with plenty of organization details. Two open pockets on one side and a zippered pocket on the other helped to keep my purse looking neat and clean.
And I have to admit that I loved the signature bright orange interior of the purse as well!
The latest collection from Canopy Verde was inspired by two of the owner's favourite design destinations – Brooklyn and Copenhagen.
The focus was to create styles that were simple yet chic, minimalist but not plain. The two key colours in this collection are neutrals with a twist – you can substitute indigo for your black bag and choose stone when you want to lighten up your outfit.
Canopy Verde has also recently launched a brand new website featuring the new collection, and it really does have something for everyone. From clutches to crossbody bags, the line will have you wowed with its stylish colour combinations.
If you'd like to check out the Oleander Hobo I reviewed or other items in the previous collection, you can find them at the Canopy Verde Etsy shop.
But no matter which purse you fall in love with, you'll be able to use your bag knowing that you're choosing a fashion accessory that was designed with minimum waste and maximum consideration for the environment. What more could any earth-loving fashionista wish for?