It's no secret that I love all things cheese and because that applies to dessert too, I am a huge cream cheese fan. Since Kraft unveiled the new Philadelphia Chocolate Brick Cream Cheese last month, I've been having a blast using it to create decadent treats like these Double Chocolate Oreo Cookie Balls. But when it comes to chocolate and cream cheese, there's just no way that one dessert is enough!
I decided I wanted to create a festive dessert that had gourmet style, but was still quick and easy to prepare. Of course, chocolate cheesecake is a favourite with me so I also wanted to incorporate it in some way. And so my Black Forest Oreo Mini Cheesecakes were created!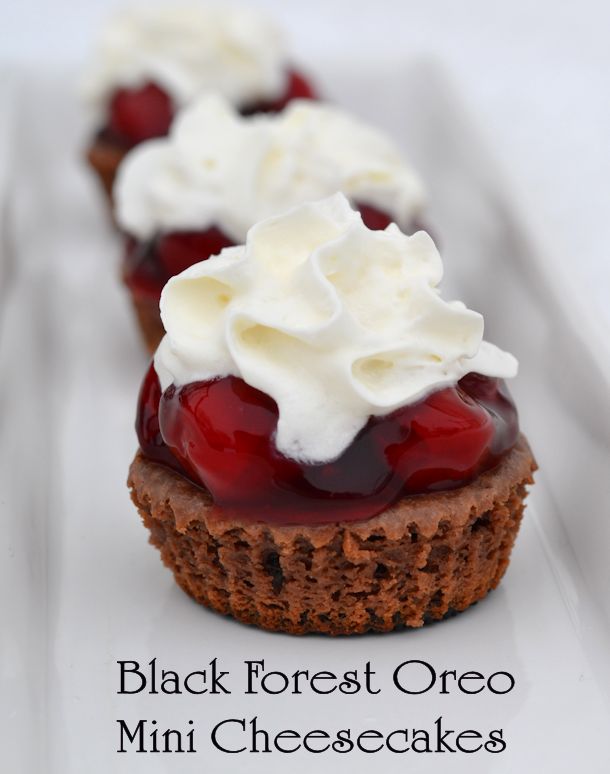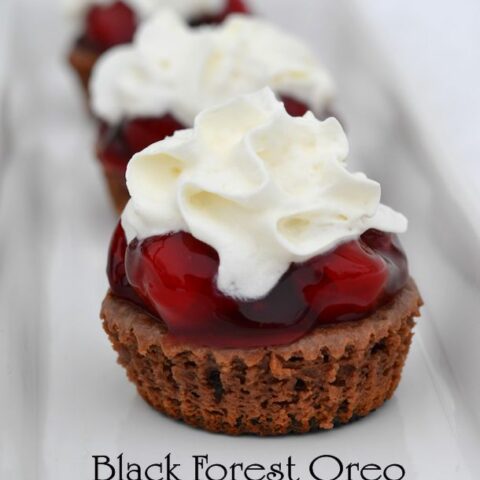 Black Forest Oreo Mini Cheesecakes
A simple and delicious dessert with gourmet appeal!
Ingredients
12 Oreo cookies
1 8 oz. package Philadelphia Chocolate Brick Cream Cheese, softened
1/4 cup sugar
1 egg
1 cup prepared cherry pie filling
whipped cream to garnish
Instructions
Preheat oven to 325 degrees
Line a 12-cup muffin tin with medium muffin liners and place an Oreo cookie in the bottom of each liner.
Beat cream cheese and sugar together until blended. Add egg and beat just until combined.
Pour cheesecake mixture into muffin liners until each is about 3/4 full.
Bake for 20-25 minutes, until cheesecake is set. Remove cheesecakes from tin and cool completely.
Top each cheesecake with a spoonful of cherry pie filling and a dollop of whipped cream.
Serve immediately
Nutrition Information:
Yield:

12
Serving Size:

1 grams
Amount Per Serving:
Unsaturated Fat:

0g

These treats were so much fun and looked amazing when they were completed. For the more ambitious, creating a classic chocolate crumb crust for the bottom of the cheesecakes would be a great alternative to the Oreo cookies. But because I wanted to ensure that my recipe could be prepared with a minimal amount of fuss, the cookies were a perfect choice for me.
For more great recipes using the new limited edition cream cheese, make sure to check out the Kraft What's Cooking website! And until November 30, you can even get a Buy 2, Get 1 Free Coupon for Philadelphia Chocolate Brick Cream Cheese! Don't miss out on your chance to get creative with this tasty treat!
Personally, I think I'm going to have to go more traditional with my next recipe and create a good, old-fashioned cheesecake. But no need to be too traditional: this Salted Caramel-Chocolate Cheesecake seems like a good choice to me! It's so easy to get perfect results with Philadelphia Chocolate Brick Cream Cheese that there's no limit to the decadent desserts you can whip up. Try it for yourself and enjoy the sinful blend of cream cheese and chocolate!