It's almost time for holiday celebrations and that means for many families, holiday visiting! I love having my family come to visit but it does mean that the house needs some extra preparation. But this year, P&G Canada is here to help with some helpful tips and ideas for making any home feel hotel-luxurious for guests!
The Bedroom
Sprinkle Downy Unstopables into your laundry to ensure sheets smell fresh and clean for their entire stay – adding a touch of luxury to their sleep! To be sure your guests feel relaxed place a Febreze Sugared Cranberry Candle on their bedside table – the aroma is certain to put them at ease!
The Kitchen
Doing laundry can not only be a hassle for guests, but is rarely ever a priority. With Tide-To-Go Pens, you can offer them the feeling of a crisp clean outfit instantly, in the event of a dinnertime mishap.
Harsh winter air and a sink full of dishes may sound like an unsavoury way to treat your special guests. Since they're sure to be the first to lend a helping hand after dinner, show your gratitude and make dishwashing a pleasant, post-dinner tradition. It's simple: swap out your favourite scented suds for Dawn Hand Renewal with Olay, cutting turkey grease and rejuvenating your guests' hands in just five washes!
The Bathroom
Travel sized portions of body wash, face cream, shampoo and conditioner are the perfect items to keep in the full bathroom for your overnight guests. As these products are often the first items forgotten when packing, guests will not have to worry when they see Olay Body Wash and Olay Regenerist waiting for them by the bathroom sink.
In the shower, add a couple shampoo and conditioner options to provide hair products that match your guests' needs! With Pantene Smooth, your guests will have hair that stays super-sleek for up to 72 hours and, with Pantene Volume, guests who suffer from flat hair will experience 24-hour volume to get them through that holiday party!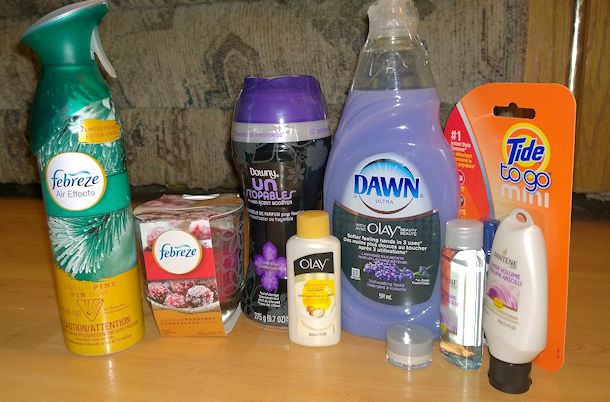 Personally, I love the idea of having travel-sized products on hand for guests, especially since my family tends to all favour different products. Having small bottles to offer variety is such an easy way to ensure everyone has the products they prefer!
If you need to get your home holiday-ready, P&G is here to help! The company is very generously offering one lucky Mommy Kat and Kids reader their own Holiday Host prize pack containing Downy Unstopables, Tide-To-Go, Olay Body Wash 50 mL, Olay Regenerist Sachets, Pantene Smooth Shampoo 50 mL, Pantene Smooth Conditioner 50 mL, Pantene Volume Shampoo 50 mL, Pantene Volume Conditioner 50 mL, Febreze Sugared Cranberry Candle, Febreze Frosted Pine Air Effects and Dawn Hand Renewal, a $40 value! To enter to win, just leave a blog comment with your best tip for preparing your home for the holidays.
With a few simple and festive touches, my guests are sure to feel comfortable visiting this holiday season, even if I don't manage to clean the house from top to bottom. After all, the best part about having family and friends visit during the holidays is getting to spend time with them. And I'll be doing plenty of that after giving my home a warm and inviting feel with help from P&G!