If there's one company that immediately springs to mind when it comes to holiday shopping for kids, it's Mattel. Boys, girls, toddlers and tweens can all find a favourite toy among Mattel's incredible collection. In fact, my oldest son once went through a Hot Wheels phase that lasted for years and even had me hunting down exclusive vintage Hot Wheels cars for him. And my youngest has been a fan of the cheeky and cheerful Thomas & Friends series since he was a toddler.
This year, to help make your Christmas shopping easier, Mattel has put together the mattelholiday.ca website full of all the year's hottest gifts for kids aged 1-12. Featuring products from Barbie, Hot Wheels, Monster High, Fisher-Price and many more, finding the perfect gift for your child has never been easier!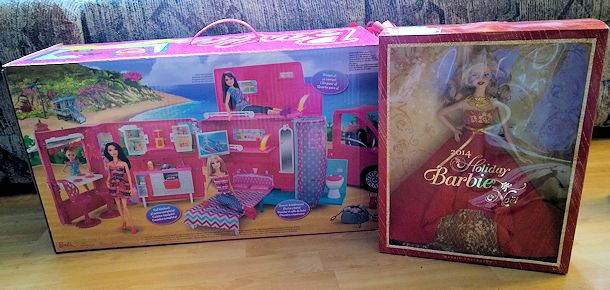 Mattel has also identified the Top 10 Toys of the holiday season and to let me see what made them such a great choice, I was given the chance to choose four of them to check out. I decided on the 2014 Holiday Barbie Doll, the Thomas & Friends TrackMaster Avalanche Escape Set, the Barbie Glam Camper and the Hot Wheels Super Loop Chase Race.
When these toys arrived, I have to admit it felt a little like Christmas already even though none of them were for me. I had been stuck trying to figure out a good gift for my oldest niece; her and Zackary are best friends so I wanted to make sure she got something extra special. The Barbie Glam Camper was the perfect choice. I know she'll love playing imaginary games with it and since her family spends so much time camping in the summer, it's a great fit for her personally too!
My youngest son Benjamin already has one Thomas & Friends TrackMaster set and since he has so much fun with it, I know he'll love adding another one to his collection. The battery-powered train is a huge part of this set's appeal; Benjamin loves watching Thomas zoom around the track at top speed. And of course, seeing Thomas escape danger again and again is always a thrilling experience!
While my oldest son Zackary has outgrown the obsessive love of Hot Wheels that he once had, he still enjoys racing his cars around the many tracks and courses he's collected. The only downside is that they take up a lot of space. That's why I loved the Hot Wheels Super Loop Chase Race set as soon as I saw it. Because it leans against the wall, it takes up a very minimal amount of space while still providing tons of action. And for those times when we do want to go all-out, the set connects to other Hot Wheels tracks for even more fun!
I have to admit that of all the toys available, the 2014 Holiday Barbie Doll was the one I couldn't resist choosing just because it was so pretty. With four young nieces in the family, I'm sure I'll find a good home for this beautiful doll, but what I was really thinking about when I chose it was how I used to stare longingly at the beautiful Holiday Barbies that appeared on the shelf during the Christmas season. This doll is just as beautiful as the ones I remember from my childhood and I have to admit that I kind of want to keep her for myself.
The Mattel Holiday Toys website also features top toys for younger children like the Fisher-Price Laugh & Learn Smart Stages Chair and fun options for older children including the BOOMco Rapid Madness Blaster and the Monster High Freaky Fusion Hybrid Dolls. And with links to find the toys at all your favourite stores, shopping for the perfect gift really couldn't be easier. Take a look at the site and see which items would be on your child's Christmas list. Holiday celebrations are sure to be extra fun with Mattel!