For the last three years I've had the privilege of attending We Day Saskatchewan and I always come out of the event impressed by the passion of today's youth and inspired to make a bigger difference in the world myself. Teaching my boys about social responsibility and supporting the causes they believe in is a big part of that and this year I decided that my eight-year-old son Zackary was finally old enough to attend We Day with me.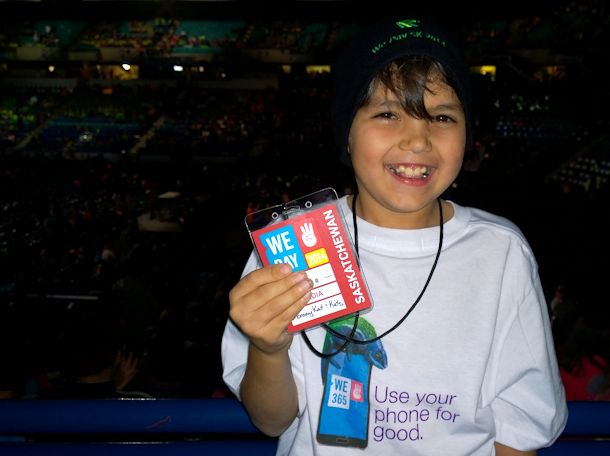 TELUS has been a proud sponsor of We Day each time I attended and this year was no exception. I've been a TELUS customer for a long time and while that's partially because the company offers such amazing smartphone plans, it's also because of its passion for bettering the world. The ongoing sponsorship of We Day is a perfect example of that.

The day was filled with moving speeches by influencers including Oscar-winning actress Marlee Matlin and Captain Richard Phillips, true-life inspiration of the hit movie Captain Phillips, as well as great entertainment by Neverest, Karl Wolf and other top performers. I have to admit that the highlight of my day was when Craig Keilburger stopped by to say hi and chat with us. I missed meeting him at the last two We Day events so finally chatting to the man that has done so much to empower youth and motivate change was exciting.
But it's when kids leave We Day that the real challenge begins, because that's the time when thoughts and desires need to be put into action to create a real and meaningful difference in the world. And TELUS has a fun way to help kids do that with the We365 app! This free app for iOS and Android lets kids choose the activities they're passionate about and then complete challenges that help out their favourite causes.
I tried out the app myself and what I loved was the variety of challenges available. From simply posting statements or pictures to making donations and raising money, there were so many different ways to get involved. App users can join the challenges created by others or create their own challenges that support the causes they love.
The app also features a handy Volunteering tab so that kids can set a goal, track their volunteer hours, record the skills they develop and reflect on how the experience changed them. And as users complete challenges, record volunteer hours and join groups, they earn fun virtual pins to help them show off the difference they're making.
The TELUS We365 app was lots of fun to use and a great way to get kids thinking about ways they can help make changes in the world. Zackary will be getting his first cell phone before too long and when he does, I'm going to make sure that this app is installed on it. And right now there's even more motivation to get We365 on your phone because until the end of November, TELUS will be donating $5 to We Day programs for every download of the app!
From the support of We Day to the development of the We365 app, TELUS has always proven that they are passionate about inspiring the next generation and creating a better world for all of us. It's just one of the many reasons I'm proud to be a TELUS customer. Check out this fun free app to let your kids see how much fun it can be to make a difference. And remember to tell them to keep an eye out for future We Day events. Kids have to earn their ticket through community support and involvement; so getting started with We365 may just help your kids earn a ticket to one of these amazing shows!