Mornings are always a little rushed with two kids to get ready for school each day, and when the holiday season arrives, the morning is even busier. In addition to packing lunches, making breakfast, quizzing my oldest on his spelling words and checking the boys' agendas, there are holiday forms to fill out, craft materials to send to school and last-minute plans to make for various activities.
It goes without saying that the cleaner my house is each morning, the easier that busy routine feels. But living in a rural community, I don't have the option of putting garbage out each night. Garbage is only picked up once a week and even the night before garbage day trash has to stay inside because stray animals tend to rip it apart if it's put outdoors. And that means that some mornings, even when the house is tidy, the garbage doesn't smell so fresh!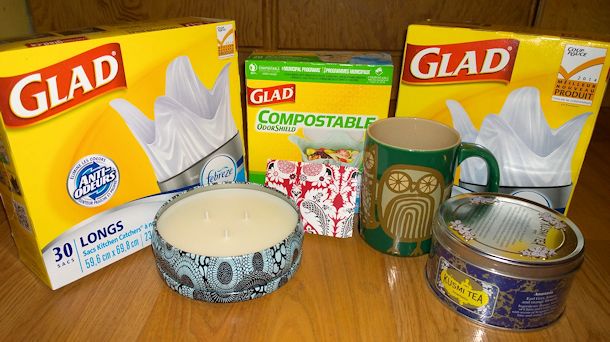 GLAD Canada wanted to help me change that, so the company sent me a Good Morning kit featuring GLAD Odour Guard bags, a fabulous scented candle, some luxurious loose-leaf tea, a new coffee mug and a Home Sense gift card so I could add a little extra style to my kitchen! I was excited to add more serenity to my morning, but what I was even more excited about was testing out the Odour Guard technology in these bags with my kitchen garbage!
The bags feature febreze Freshness so that smells aren't just covered up; they're actually neutralized. And with both compostable and regular kitchen bags to choose from, they're great for all kinds of kitchen waste. There's nothing worse than a smelly compost container but my countertop compost bin always smells sweet with the Easy-Tie Kitchen Compostable Bags.
The Kitchen Catchers Bags, however, I hadn't tried before. But I sure could smell the freshness as soon as I opened the box and pulled out a bag! These bags are available in two scents: Fresh Clean and Lavender. I received the Fresh Clean variety and it was a nice, crisp scent, but I have to admit I'm longing to try the Lavender since that's one of my very favourite aromas!
The bags are nice and strong, perfect for all my kitchen garbage, and I love the fact that they add a subtle fresh scent to the garbage bin. But most importantly, there's no smell of garbage even when the bag is full and I haven't had time to put it out yet. Waking up to a kitchen that smells fresh and clean even when the scraps of last night's fish and onion dinner are filling the garbage is pretty fantastic!
With the holidays here, having a fresh, inviting home is even more important and GLAD Odour Guard Bags with febreze Freshness are helping to ensure that my home is always ready for visitors. Even unexpected guests aren't a worry when I know my house smells fresh and clean! That's why GLAD Odour Guard Bags are my new must-have for making mornings, and the rest of the day, run a little smoother.