During the stress of the holidays, there's nothing better than relaxing with a fun game, and one of my very favourite companies for top-quality fun, Big Fish Games, has three fabulous new hidden object games that are sure to provide plenty of entertainment over the Christmas season. Recently I had a chance to check out the games for myself and I couldn't wait.
My top game choice was the next release in a series I've loved for years now. Mystery Case Files games are guaranteed to have an engaging story, plenty of richly detailed pictures and a perfect combination of hidden object challenges and brain-teasing puzzles. The newest release, Mystery Case Files: Dire Grove, was no exception and its wintry theme makes it great for playing over the holidays.
Your mission is to discover the source of the freezing cold weather that's hit Dire Grove, and it's soon revealed that a feud between the townspeople and the mysterious Mistwalkers that live in the woods is reaching a head. Step by step, the puzzle is unravelled as you strive to bring peace and warmth to Dire Grove once more. Mystery Case Files: Dire Grove is available on PC/Mac and on iPhone/iPad now, so download it on your favourite system today!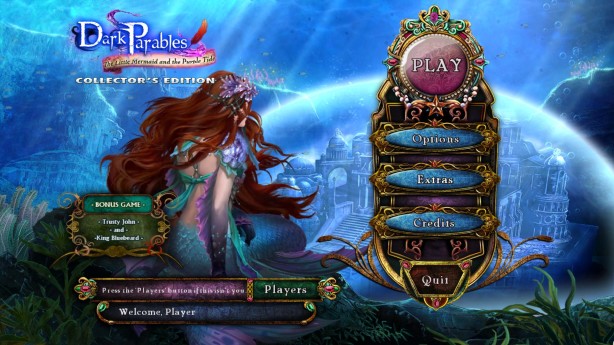 For those that prefer water to snow, the newest game in the best-selling Dark Parables series is a great choice. Dark Parables: The Little Mermaid and the Purple Tide explores a gorgeous underwater fantasy kingdom in this beautifully illustrated hidden object game.
Like the other games in this series, this title has a fairy tale theme that guarantees plenty of story development. When a mysterious temple appears in the Mediterranean Sea off the coast of Crete, you're sent to investigate the reason behind its appearance. With bonus content and special collectibles, this game packs plenty of fun into the story. Dark Parables: The Little Mermaid and the Purple Tide is currently available on PC/Mac and is sure to leave you captivated.
Finally, for those fully embracing the Christmas spirit, Christmas Stories: Hans Christian Andersen's Tin Soldier provides an instant dose of holiday cheer. This hidden object game is incredibly festive with a classic story that will delight young and old alike.
You enter the story after learning your friend Albert, formerly the Nutcracker Prince, was turned into a toy (along with two other innocent people) by an evil baron. But by teaming up with the Nutcracker and your new friend the Tin Soldier, you may just be able to destroy the baron's curse. Christmas Stories: Hans Christian Andersen's Tin Soldier will be available December 4, 2014 on PC/Mac and iPhone/iPad so mark your calendar to download this game based on a holiday favourite!
All three of these great games have provided me with plenty of entertainment already, and when I've finished a busy day of cleaning, organizing, decorating and working, sitting down for an hour or so to unwind with one of the games is guaranteed to have me feeling calm and at ease. Check them out and download one or two yourself for hours of fun over the Christmas holidays!