I live in a province that's subjected to some of the hottest summers and the coldest winters in Canada. In fact, among provincial capital cities, Regina has the current record for both the hottest day and the coldest day ever recorded. But while I've grown up braving the cold weather with a grin, I have to admit that when I have the choice, I like it hot! Putting up with a cold Saskatchewan winter is something I tolerate. A hot Saskatchewan summer, however, is something I adore!
It's just a fact of life that some like it hot and some like it cold, and to celebrate that fact, SUBWAY Canada has launched a fun new sweepstakes and instant win game that lets you celebrate your affinity for hot or cold. The SUBWAY Canada Hungry for Hot, Crazy for Cool Sweepstakes lets you choose prizes based on how you like your tasty SUBWAY sandwiches. Whether you go crazy for a hot Prime Rib Melt or a cold SUBWAY Club, there's instant win prizes and a grand prize that will suit your style perfectly! I received some SUBWAY Canada gift cards so I could indulge in my favourite and I couldn't resist the toasty warm Sweet Onion Chicken Teriyaki!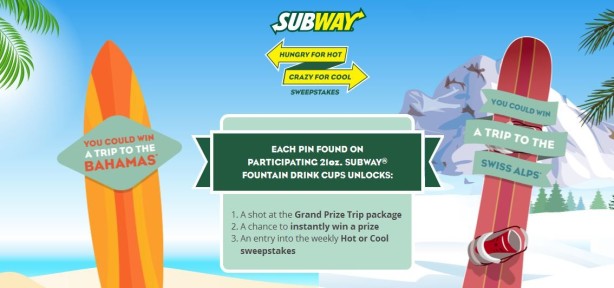 To enter, just visit participating SUBWAY Restaurants across Canada to purchase a 21oz specially-marked prize cup fountain drink. Peel off the label to reveal a unique contest pin code then visit www.subway.com to register and type in the code for a chance to win! There are daily prizes of $25 SUBWAY gift cards as well as weekly Hot and Cold prizes ranging from winter boots, sunglasses, snowboarding gear and GoPro HERO3+ cameras!
Best of all, each pin code will also enter you in the grand prize draw for your choice of either a Bahamas vacation or a Swiss Ski vacation, letting you experience hot or cold in ultimate bliss! A customized vacation like that is sure to be one you'll remember for a lifetime!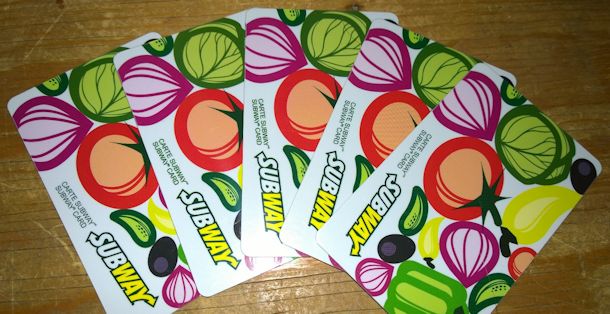 With the holidays in full swing and time at a premium, there's no better time to pop into your nearest SUBWAY for a tasty supper. And SUBWAY Canada is so excited about its new sweepstakes that they're making it even easier for you to enjoy a little dinnertime bliss! One lucky Mommy Kat and Kids reader is going to win $50 in SUBWAY Canada gift cards! To enter to win, just leave a blog comment about your favourite hot or cold SUBWAY sandwich.
SUBWAY Canada is already the best at customizing a sandwich just the way I like it, and I love the fact that they've now customized this contest the same way. With my love of all things warm and toasty, I'll definitely be choosing a hot prize if I'm lucky enough to win! The contest runs until February 1, 2015, so make sure you indulge in a delicious hot or cold SUBWAY meal soon and get your entries in for the chance at some of the hottest and coolest prizes!
Subway Canada Giveaway