I've loved coconut ever since I was a child. In fact, I used to sprinkle it on top of cereal in place of sugar in the mornings and often have a spoonful straight out of the package for a quick afternoon snack. But it wasn't until I was an adult that I learned more about how beneficial coconut is for the body. Since I've discovered its many nutritional benefits, my house is never without a jar of coconut oil and I couldn't be happier about that.
Now one of my very favourite personal care brands, Live Clean, has added the benefits of coconut to its newest hair care line too! Live Clean Coconut Milk Moisturizing Shampoo and Conditioner feature coconut milk, vitamins and milk protein that hydrate and strengthen hair without weighing it down.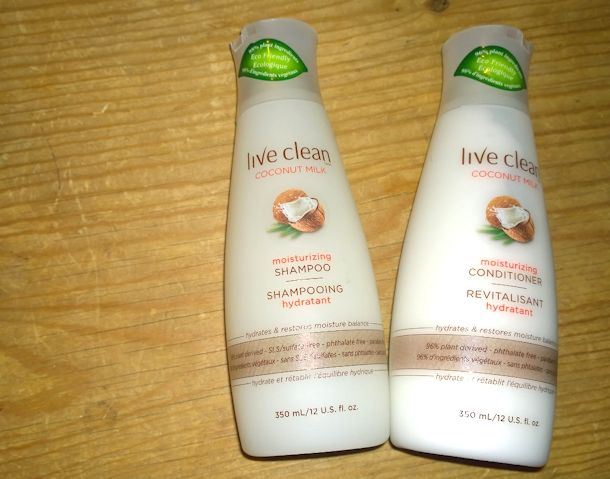 The main appeal of this collection for me is its smell. The scent of coconut is one that always has me dreaming of summer and since I just got back from a relaxing vacation in sunny Florida, the coconut aroma is bringing back memories as well. I can't help but look forward to my next warm getaway every time I wash my hair!
But as appealing as the smell of this hair care collection is, it's the results I get using the shampoo and conditioner that really have me addicted. The Live Clean Coconut Milk Moisturizing products do a fabulous job of conditioning each strand of hair, leaving my tresses soft, smooth and healthy looking. Since the dry cold of winter and then the damaging chlorine of the pool had left my hair quite damaged, receiving these two products was the answer to my prayers!
If your hair could use a little extra nourishment, Live Clean wants to help! Two lucky Mommy Kat and Kids readers are going to win their own set of Live Clean Coconut Milk Moisturizing Shampoo and Conditioner, a $14 value! To enter to win, just leave a blog comment about your biggest current hair concern.
Like all Live Clean products, this hair care line is free of sulfates, phthalates and parabens. The products are vegan, never tested on animals and at least 96% plant derived too! I love that the natural ingredients in this shampoo and conditioner provide such fabulous results. Find the new products at select stores across Canada and add the nourishing benefits of coconut to your daily routine. Your hair will thank you for it!
Live Clean Coconut