Teaching kids about healthy eating is important, but it can also be challenging! As much as my boys enjoy raw vegetables and fresh fruit, they also like fries, burgers and sweet desserts. Finding a balance between the healthy food and the junk is a constant job in this house! T-Fal Canada understands that teaching kids about proper nutrition can be a challenge, and that's why the company is relaunching last year's Healthy Cooking for Healthy Kids program. Packed with handy resources for eating well and staying active, it's a great way to get kids excited about healthy living.
One of my favourite aspects of this program is the fact that it encourages physical activity as well as good eating. I was shocked to learn that only 7% of Canada's youth meet the guideline of 60 minutes of physical activity per day. By keeping track of activities and offering fun rewards, the website provides fun solutions to get kids excited to move!
Of course, physical activity is only half the equation when it comes to a healthy lifestyle, and that's why the website also features information on reading food labels, fun games and great healthy recipes that are also kid friendly. By using the T-Fal ActiFry, the tasty and healthy meals can be prepared with just one tablespoon of oil!
I received a T-Fal ActiFry Family to review so that I could see for myself how it helped revolutionize my cooking while still creating meals my boys would love. The Chicken Nuggets recipe was their personal favourite. To make it even healthier, I used whole wheat bread crumbs instead of white. The boys didn't mind the switch at all and I love how crispy and delicious the nuggets were even with the minimal oil!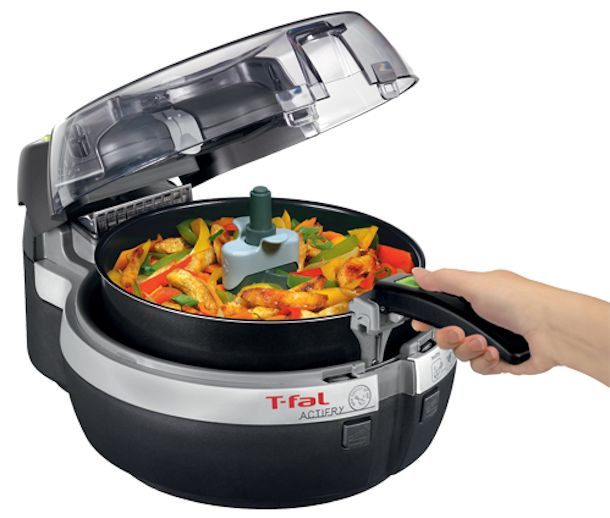 My second top recipe pick was the Sweet Potato Fries. These are such a fun treat and packed with protein, fibre and Vitamin A. Made in the T-Fal ActiFry, they're also a healthy low-fat choice! But no matter what tasty treats I make, being able to use minimal oil and still get crispy, crunchy results helps ensure my boys will gobble up their meals.
I love the way the T-Fal Healthy Cooking for Healthy Kids program helps encourage healthy living in a variety of ways. From food to physical activity to getting enough sleep, there are so many aspects of good health that can be overlooked. This program makes it easy for kids to track their progress and build healthy habits to last a lifetime. And when they can still enjoy delicious fries and other treats thanks to the T-Fal ActiFry, that's good news for everyone!