It's no secret that I love to dress up. Being a work-from-home mom means that there are some days I will quite literally lounge around in pajamas all day long.
But since dressing up isn't a common occurrence for me, I take every available opportunity that I get to style my hair, put on a little makeup and slip into one of my favourite dresses.
My white body-con dress from Lulu is one of those outfits that I absolutely love having an excuse to wear. But its form-fitting style and white fabric means that looking great in this dress is also a bit of a challenge.
I knew as soon as the dress arrived that not just any undergarments would work with it. And so my search for the perfect bra and panties began.
I managed to find a great smooth and sheer bra that worked well under the dress without being visible, but I couldn't find a single pair of panties that didn't show in some way.
The best I could do was a nude-coloured g-string and even that created a slight crease under the dress where the strings wrapped around my hips. It seemed that there were no truly invisible undergarments available…and then I discovered Shibue!
Shibue Couture products were created by a fellow fashion-loving mom. Like myself, she had found that one perfect outfit, but wasn't able to find undergarments she could wear with it.
So she invented a Strapless Panty that provided coverage without showing lines anywhere, thanks to a line of silicone adhesive that keeps the garment in place against the skin without the need for straps around the side of the panty.
From there, the line expanded into other handy products including fashion tape, non-slip garments and cover-ups. I recently received an assortment of Shibue items to review myself and I couldn't wait to see if they'd be able to solve some of my most common fashion dilemmas.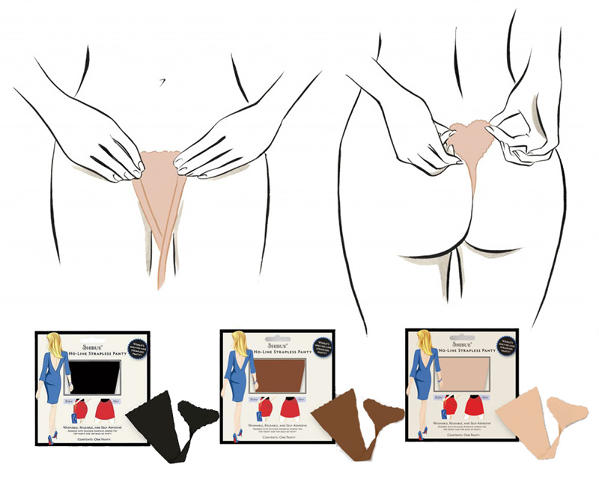 Of course, the first item I had to try was the company's hugely popular Strapless Panty. These are available in both a smooth and a lace pattern and I chose the nude colour for both styles for ultimate versatility. With my white dress close by, I set out to see if the no-line claim held true.
The panties attach to the body with a strip of smooth silicone adhesive in the front and back. I was impressed by how well the silicone adhered and how comfortable the panty felt once I'd attached it to my skin.
Thanks to the cotton lining, the feel was very similar to wearing a regular pair of panties and after a few minutes, I essentially forgot I was wearing the Strapless Panty at all. I pulled on my white dress to see how it looked and to my delight, the garment was completely invisible under the dress!
The company also sent me a fabulous Non-Slip Cami Dress designed to be worn underneath that favourite sheer top or to provide extra coverage under a dress. The bottom hem features a line of a similar silicone so that the dress won't ride up or move around under an outfit.
I have some cute lace tops that I bought over a year ago and have never worn since I didn't know what to use underneath for coverage. I tried on one of the tops with the Cami Dress and a pair of jeans and suddenly gained a new favourite wardrobe item!
Shibue also offers Cover Ups and No Flashin' Tape for other fashion fixes. The Cover Ups provide extra coverage under a sheer bra, or in place of a bra for those that can get away with that look. (After breastfeeding two kids, I'm not one of those women, though!)
And the No Flashin' Tape is something that I personally think every woman should have in her purse for any type of quick fashion fix. Whether you need to quickly repair a ripped hem or ensure bra straps stay in place under your top, this versatile fashion tape easily ensures you're always looking your best.
I'm so happy to have found this line of unique and useful undergarments, and I love how much more comfortable and functional Shibue has made some of my favourite outfits.
When I can put on clothes that I love and feel confident that I look my best without worrying about a fashion faux pas, I am one happy woman. And that makes dressing up after a week of jeans, t-shirts and caring for messy boys even better!