My boys' first experience with Mexican food was a taco party made with an Old El Paso Dinner Kit, and while we've tried all kinds of different Mexican delicacies since then, Old El Paso tacos are still their favourite. Benjamin loves a soft taco and Zackary likes the crunchy shells, but both boys agree that Old El Paso is delicious!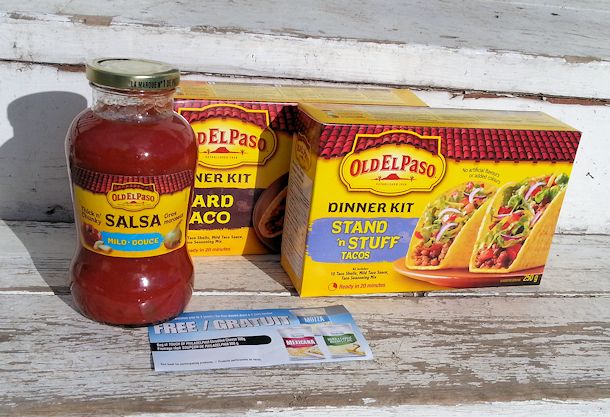 I wouldn't have though that this tasty treat could get any tastier, but Old El Paso and Kraft Canada have found a way with a very special offer! Between now and April 23, purchase select Old El Paso Dinner Kits to receive a coupon for Touch of Philadelphia Shredded Cheese. Take the coupon to the store and purchase another Old El Paso Dinner Kit and an Old El Paso Salsa to get the Touch of Philadelphia Shredded Cheese free!
Adding shredded cheese with a touch of creamy, dreamy Philly to a meal we already love just makes sense to me, so I decided to try one of the cheesy Mexican recipes on the Kraft Canada website. The Chicken Ranch Tacos were a perfect blend of flavours for my boys and so easy to make too! I just combined ready-cooked chicken, Old El Paso Taco Seasoning and Old El Paso salsa in a skillet and simmered it for a few minutes. Then I filled the taco shells with chicken, lettuce, tomato, ranch dressing and Touch of Philadelphia Shredded Creamy Mexicana Cheese.
The result was fantastic and while my oldest still prefers beef tacos, Benjamin and I both especially enjoyed the variation of having chicken instead. It paired so well with the tangy ranch, crunchy lettuce and creamy shredded cheese!
The chance to save as you try a cheesy new Mexican recipe won't be around for much longer, so if you've been craving something a little different for your next Mexican night, make sure to grab a specially marked Old El Paso Dinner Kit and give one of these fun recipes a try. Once you do, your Mexican dinners will never be the same!