There's no better way to celebrate Earth Day than with a party, and this year EnviroKidz has some great ideas to help you throw the best Earth Awareness Party ever! My personal favourite idea is these adorable cupcakes made with EnviroKidz Koala Crisp cereal!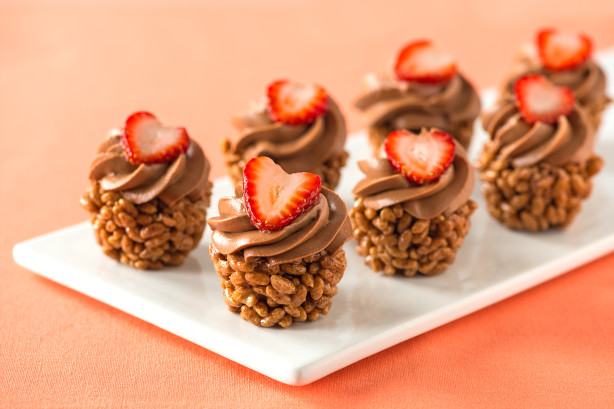 EnviroKidz Koala Crisp Mini Cupcakes
Sweet and tasty mini cupcakes made with crunchy organic Koala Crisp cereal!
Ingredients
2

tbsp

butter

2

tbsp

honey

2

tbsp

brown rice syrup

1

tsp

vanilla

2

cups

EnviroKidz Koala Crisp™ cereal

3

oz

cream cheese

softened

1

tbsp

butter

softened

3/4

cup

icing sugar

4

tsp

cocoa powder

4

strawberries

sliced
Instructions
Grease a mini-muffin pan; set aside. In saucepan set over medium

heat, bring butter, honey and brown rice syrup to boil. Boil for about 1 minute or until mixture is well combined and slightly thickened.

Remove from heat. Stir in vanilla and cereal.

Divide evenly and press into 18 mini-muffin cups. Cool completely.

Remove from pan.

Icing: Meanwhile, in a bowl, beat cream cheese and

butter together until well combined. Gradually beat in icing sugar and cocoa until smooth.

Transfer icing to a piping bag fitted with a star tip. Pipe a swirl of icing onto each cupcake. Garnish with a strawberry slice.

And if your kids prefer creamy treats to crispy ones, then these Chocolate Garden Cups are sure to be a hit! I love the idea of serving them in Mason jars for a little added flair, and the sprig of fresh mint on top is the perfect finishing touch!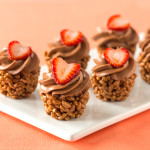 EnviroKidz Chocolate Garden Cups
A delicious and easy homemade chocolate milk pudding topped with mint and cereal to create adorable edible gardens!
Total Time
1
hour
5
minutes
Ingredients
1 ¾

cup

chocolate milk

room temperature

2

tbsp.

cocoa powder

2

tbsp.

corn starch

1

tbsp.

maple syrup or sweeten to taste

1/2

cup

Choco Chimps Cereal

crushed

Sprigs of mint
Instructions
Combine cocoa powder and corn starch in a small pot.

Gradually stir in milk and whisk until smooth. Stir in maple syrup.

Stirring constantly, bring to slow boil. Whisk for 1 minute until pudding thickens.

Remove from heat and pour into small mason jars or jam jars, leaving space for topping.

Chill for 1 hour until cooled and thickened.

Top with crushed Choco Chimps Cereal and garnish with sprig of mint and popsicle stick.

Recently EnviroKidz sent me a package of fun party products so that my boys can celebrate Earth Day in style and I especially loved the party favours from some of the company's 1% for the Planet partners including The Australian Koala Foundation and Dian Fossey Gorilla Fund. My boys got so excited about the gorilla stickers and couldn't wait to share them with friends at their very own Earth Day party!
Now, to help you raise awareness for the earth in a very fun way, EnviroKidz has organized a special giveaway! One lucky Mommy Kat and Kids reader is going to win their very own Earth Day Party Pack containing EnviroKidz cereal and snack bars for goodie bags and recipes, ten free product coupons for other delicious EnviroKidz products, stickers and party favours from EnviroKidz' 1% for the Planet partners, a party banner and an activity book for party planning, a $100 total value! To enter to win, just leave a blog comment about which of these recipes your children would be most excited to try.
Since my youngest son loves animals so much, I'm going to use this party theme for his birthday as a way of letting him support a cause he loves. Instead of presents, requesting donations for some of the fabulous 1% for the Planet charities will be a great way to teach kids how easy it can be to make a difference in the world. Whether you throw an Earth Day bash for your block or an Earth Awareness birthday for your child, the tasty treats, activities and recipes from EnviroKidz are sure to make your party a hit. Check out the free online party kit today and get ready to celebrate Earth Day!