There are a few products that I absolutely refuse to use on my children, and one of those is chemically based sunscreen. I fully believe in the importance of sunscreen, but with so many naturally derived and mineral based alternatives to commercial formulas, it just doesn't make sense to me to choose a product containing questionable chemicals when I can use a more natural alternative and get the same protection.
I've used a few great mineral-based sunscreens in the past, but I'd never heard of the Mustela line before. So when I had the chance to review the skincare company's line of infant and child sunscreens and after-sun products, I couldn't resist. With an SPF of 50+, these products had the great protection I wanted for my boys while still boasting a mineral based formula.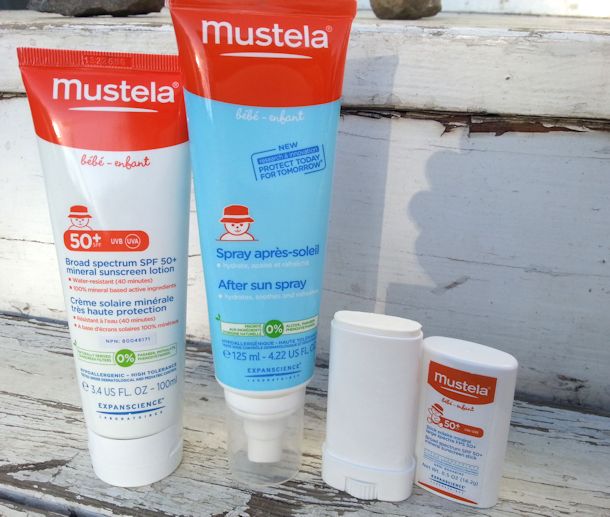 I received the Mustela Infant Broad Spectrum SPF 50+ Mineral Sunscreen Lotion, Broad Spectrum SPF 50+ Mineral Sunscreen Stick and After Sun Spray to review. I loved the concept of the sunscreen stick especially. It was small enough to easily toss into my purse so that if I happened to forget sunscreen or if I suddenly found myself out of the house longer than expected, I'd still have a way of protecting my boys' skin from the sun.
The hypoallergenic mineral sunscreen lotion was creamy and easy to apply, and absorbed with minimal effort. I used it on my youngest son over the last few days as we've had quite hot weather lately. The ease of application was a definite plus for me; I love a sunscreen that goes on with no mess! And after application, both Benjamin and I came back in from the sun without even a hint of a burn!
The After Sun Spray was perfect for soothing and moisturizing after sun exposure and I especially loved the spray-on format that made it easy to apply after coming in from the sun. The spray contains no alcohol or parabens, is hypoallergenic and contains Jojoba oil and Cupuacu butter to provide extra nourishment to skin.
It's still cool in some parts of Canada, but it won't be long before the sun is beating down in full force, and finding sun care products that are appropriate for infants is no easy task at times! But the gentle and effective mineral-based sunscreen from Mustela is a product that I'll be making a must in the beach bag this summer. Give it a try and see what you think!