There's so much to love about spring, but one of my all-time favourite things about the season is the return of fresh, local spring produce.
From tart stalks of rhubarb to locally grown asparagus, there are so many delicious flavours to enjoy in the spring!
However, I've recently learned that keeping that delicious fresh produce protected takes more than just a grocery-store produce bag.
In fact, there are all kinds of tips and recommendations for ensuring fruits and vegetables last as long as possible and to avoid food waste, GLAD products are a must for my spring fruits and vegetables!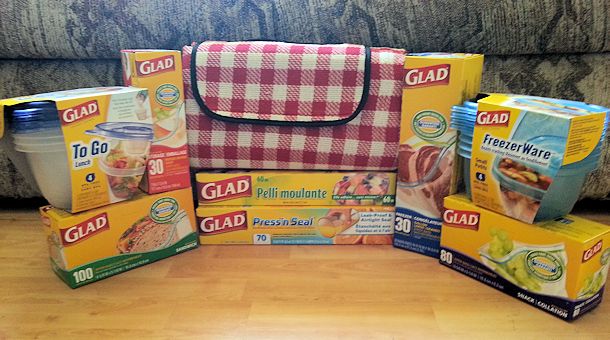 To help me on my way to a spring produce feast, GLAD Canada recently sent me a Spring Harvest package containing an adorable picnic blanket, a grocery gift card to treat myself to some spring produce and an assortment of GLAD food storage products to keep that produce fresh.
I couldn't wait to indulge in some fresh local delicacies, served at their best thanks to GLAD!
Strawberries are one of my boys' absolute favourite foods, but they're also one of the fruits that I find hardest to store. Often the berries at the bottom of the container have gone bad before we finish them, and they're so delicious that I feel extra bad about the waste.
Luckily I found a solution thanks to GLAD FreezerWare Containers! I simply line the FreezerWare Container with paper towel, place strawberries in a single layer (being careful not to crowd the berries), add another layer of paper towel and another layer of strawberries, and then seal the container. My strawberries now keep for days longer than they did before!
Asparagus is one of my other favourite spring foods, but it's another one that often starts to spoil before it's all been eaten. I've solved that problem with help from GLAD Zipper Bags.
I trim about ½ inch off the ends of the bunch of asparagus and stand the stalks upright in a cup of cold water. Then I cover the stalks with a zipper bag. It's amazing what a difference it makes in keeping the stalks fresh and crisp without the ends going soft and mushy.
But of all the tips I've learned for keeping spring produce fresh and delicious, the best one I've ever discovered is for fresh herbs. I absolutely adore cooking with fresh herbs so I start buying them as soon as they come into season each spring. But they used to wilt so quickly that I would usually throw out half the bunch.
Luckily I learned the secret! A wet paper towel wrapped around the stems and a loose wrapping of GLAD Cling Wrap keeps them fresh for about a week!
Of course, those are just a few of the ways that GLAD food storage products let me enjoy fresh spring produce! I also love packing a garden salad in a GLAD Lunch To Go Container for lunches outside; the innovative dressing cup snaps into the lid so that the veggies stay crisp until it's time to eat. And the GLAD Press & Seal Wrap is perfect for creating my own custom bags for wraps and pitas!
From packing up food for a picnic in the park to keeping spring delicacies fresh for as long as possible, enjoying spring with minimal food waste and maximum flavour is a lot easier with GLAD containers, bags and wrap in the house! See how the right products combined with proper storage can make this spring the tastiest ever.