Since I suffer from both virus-induced asthma and seasonal allergies, I've come to appreciate just how helpful air purifiers can be. While I don't get too many allergy outbreaks, the ones I do get are terrible and often cause a full day of sneezing, wheezing, itchy eyes and congestion.
The Airfree P1000 air purifier seemed like the perfect solution. Sized to provide clean, purified air in rooms of up to 450 square feet, this one little device is suitable for an entire floor of our house. And unlike many air purifiers, it uses neither chemicals nor filters to provide clean air. I was thrilled when I received the Airfree P1000 to test out for myself.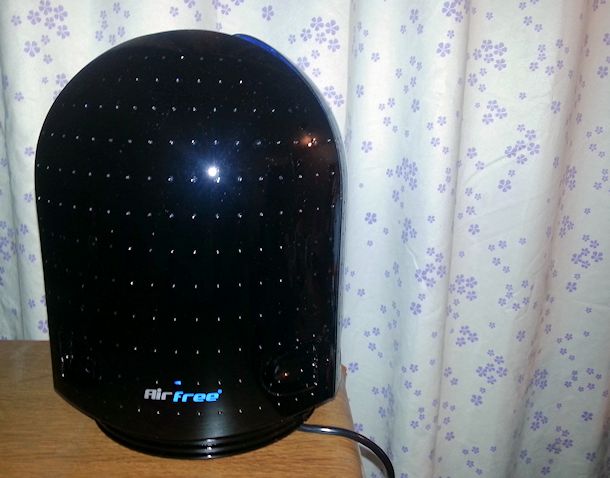 The Airfree purifier uses exclusive technology to purify air quickly and efficiently using heat. Simply put, the purifier speed heats air to over 200 degrees Celsius to sterilize it, then cools it in the device before returning the purified air to the room. It's quick, easy and the machine requires no maintenance!
I loved the sleek and stylish design of the purifier; it looked great placed on the entertainment stand in the living room. The P1000 even features a night-light, making it even more useful. And I was thrilled that the device was completely silent! I find background noise incredibly distracting at times so having a purifier that cleaned the air without making a sound was something I absolutely loved.
It took a few days before I really noticed a difference using the Airfree P1000, and because it doesn't appear to be doing anything, one could easily miss noticing the benefits it provides. What struck me first was that the main floor smelled better. With a cat, two kids and a century-old house, I often walk into a living room that smells somewhat stale and musty. Since installing the Airfree, that hasn't been a problem. I also noticed that the room seems less dusty than it was before. In an old house like ours, dust seems to appear out of nowhere but with the purifier in place, I've finally been able to stop dusting the house every other day.
Of course, since both my sons and I suffer from seasonal allergies, the real test of the Airfree P1000 is seeing how often we have an allergic outbreak. Since installing the purifier, the whole family has been free of the seasonal sneezing and stuffiness we all dread. While there's no way to be sure that the results are because of the Airfree purifier, I'm pretty confident it's helping to keep our family free of allergy symptoms this year!
Whether you're worried about mould in your house or you have family members with allergies, Airfree wants to help you see the difference its purifiers make for yourself. One lucky Mommy Kat and Kids reader is going to win their own Airfree P1000 air purifier, a $250 value! To enter to win, just check out the Airfree website and leave a blog comment about your favourite feature of these air purifiers.
I love how convenient the Airfree P1000 is both to put into place and to use. And the fact that I don't have to worry about replacing parts as it operates is an added bonus. It helps make the house more comfortable for my family members with pet allergies, it keeps the air smelling fresh and clean, it's eliminated the occasional musty smell of the house and I'm pretty confident it's minimizing our allergy outbreaks. I couldn't ask for anything more from this sleek and silent air purifier!