Warm weather is here to stay for another year and that means that my boys are spending a lot of time outdoors now. While I love all the extra physical activity that they're getting, there's something else that I have to deal with as a result of all that outdoor play…dirt! Like most kids, Zackary and Benjamin are like magnets for dirt and even though I'm pretty easy-going about kids getting messy, it sometimes amazes even me when I see how dirty my boys have become.
Live Clean products have been a fixture in our house for years; my boys used the Live Clean Baby line as infants and I adore the Live Clean haircare to keep my tresses soft and healthy. Now the company has expanded its products further to include four fabulous Live Clean Kids products just in time for summer fun! The Live Clean Kids Foaming Hand Soap and Body + Hair Wash in Tropical or Mixed Berry scents are an easy and fun way to help kids stay clean.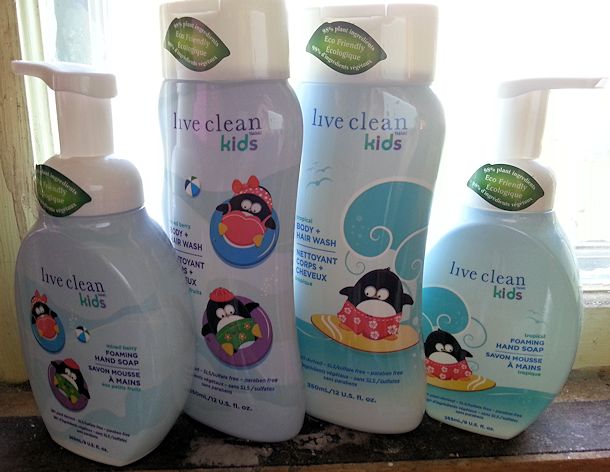 The Tropical Body + Hair Wash was my boys' personal favourite. They loved the sweet summery scent of the wash, which Benjamin said reminded him of being in Mexico. And the two-in-one formula made it easy for my boys to wash up on their own from head to toe when in the tub!
To help you keep your kids clean and healthy this summer, Live Clean has a very special giveaway just for you! One lucky Mommy Kat and Kids reader is going to win all four of the new Live Clean Kids products, a $25 total value! To enter to win, just leave a blog comment about whether you think your child would prefer the Tropical or the Mixed Berry products.
Live Clean Kids products are great for helping me keep my boys clean, and I also love that they're free of parabens, sulphates, phthalates and dyes! The gentle, effective products are a fun way to help my boys get clean after the messiest outdoor playtimes. Find the products at Walmart stores across Canada and let your kids get dirty this summer. With Live Clean Kids, washing up afterwards is part of the fun!