I've spent almost my whole life in the same house in the same small town in Saskatchewan. And while I did live elsewhere for a few years in my early twenties, the house I lived in for my entire childhood always felt like home. Later, I was able to buy it from my mother and raise my own children there. I have to admit, I didn't think I would ever live anywhere else.
But now change is afoot and in preparation for an upcoming move to Ontario, that childhood home has been sold. I know it won't take long to feel at home in the house we will eventually buy after moving, especially once I have all my favourite knick-knacks and home décor items in place. But in the meantime, my home is a two-bedroom apartment in the small city of Moose Jaw. And as a woman that's always lived in a town, I have to admit that it feels pretty strange.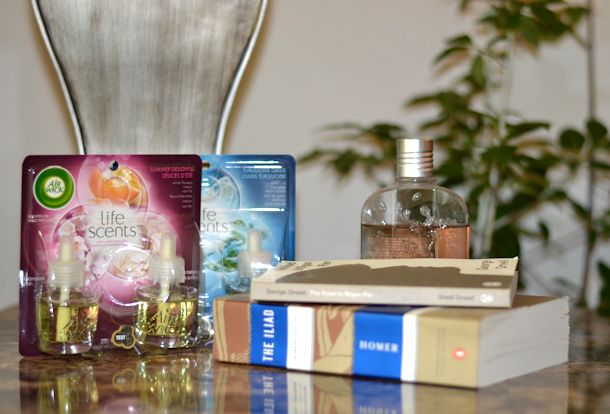 So how did I make this new environment feel like home? Luckily, I had a few tricks up my sleeve to help me feel comfortable and at peace in the new environment! And the most important one for me was adding the scent of home to the air with Air Wick® Life Scents™. Featuring the first constantly changing fragrance, the true-to-life aromas have me feeling at home the second I walk through the door.
Since I tend to favour light, summery scents, my personal favourite Life Scents™ variety is the Summer Delights fragrance. With the aroma of fruity cantaloupe, sweet white flowers and rich vanilla ice cream, this blend has me immediately dreaming of basking in the sunshine. But when the weather turns cool, nothing makes me feel more at home than the Mom's Baking fragrance, with the aromas of caramelized pears, piecrust and vanilla. In fact, the scent often inspires me to get into the kitchen and cook up something delicious!
I've also added some fun personal touches to the apartment to give it a homier feel. Since relaxing in a warm bath is my favourite way to relieve stress, adding a pretty bottle of bubble bath to the bathroom was a must. And as an avid reader, I had to have some of my favourite books on display in the living room! Reading a great book while enjoying the scent of Air Wick® Summer Delights is instant bliss after a long day. Finally, while I may not have the large yard that I'm used to, putting a potted tree on my balcony has helped me to feel like I'm still connected to the outdoors. Just a few simple additions to my new space really do make it feel like home!
If you'd love to give your own special spot a new look, Air Wick® is hosting a fabulous contest that you won't want to miss! Just upload a picture of your favourite space to Instagram, Facebook or Twitter along with a brief caption about what you like doing there, and tag the image with #HomeIsInTheAir. The most inspiring entry, as determined by hearts, likes, retweets and a panel of Air Wick® judges, will win a $5000 Room Makeover!
One of the best lessons I've learned since moving out of my childhood home has been that home is wherever I make it, and not tied to a particular location. Bringing along the things I love, filling my space with familiar scents and ensuring I can indulge in my favourite activities are all I need to feel at home. While the future may have many more adventures in store for me, and maybe even many more different living spaces, I know I'll be able to quickly create the cozy haven I crave. And with Air Wick® Life Scents™, I'll always know I've come home as soon as I step into the room.
Unlike ordinary home fragrances, each Air Wick® Life Scents™ fragrance contains three constantly changing unique scents that let you create your own home experience. Try the new air freshener collection from Air Wick®– Available in four multi-layered fragrances from Airwick.ca.

Disclosure: This post was brought to you by Air Wick® Canada via Mode Media Canada. The opinions expressed herein are those of the author and are not indicative of the opinions or positions of Air Wick® Canada.