Disclaimer: The hotel stay and meals on this trip were provided by IHG. Opinions expressed belong to Mommy Kat and Kids and are not influenced in any way. View full Terms and Policies for further information.
It's hard to believe, but summer is already half over! Since we were packing and moving last month, we didn't really get to have a proper summer vacation this year, and I couldn't help feeling a little bad about that. But thanks to InterContintental Hotels Group, I was able to still make the most of summer by heading off on a staycation in Saskatchewan's capital city!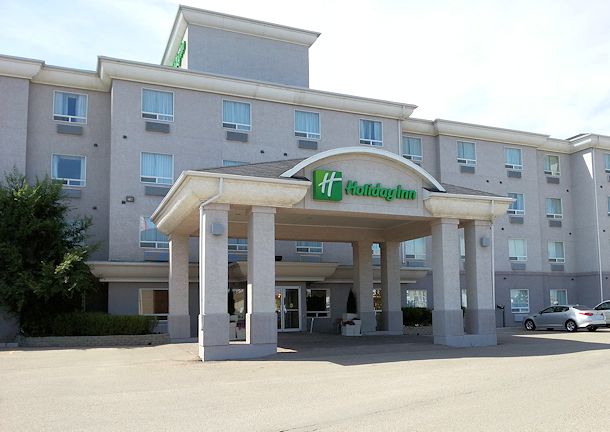 One of my biggest decisions was which IHG hotel to choose for our trip, and after checking out my options, I decided on the Holiday Inn Hotel & Suites in the eastern end of the city. The hotel boasted a variety of family-friendly features that I knew we would all appreciate, including free meals for kids at the attached restaurant as part of Holiday Inn's Kids Stay and Eat Free program, free high-speed Internet and a pool with a waterslide. It was also conveniently located just minutes from the downtown area.
I used IHG Rewards Club Points to book my stay, with 30,000 points being good for one night. To my surprise, I realized that I could book any room with my points, which meant instead of getting a basic single room with two Queen beds as I had planned, I was able to get a Family Suite featuring a master bedroom with a king bed and a second room with two queen beds for the boys!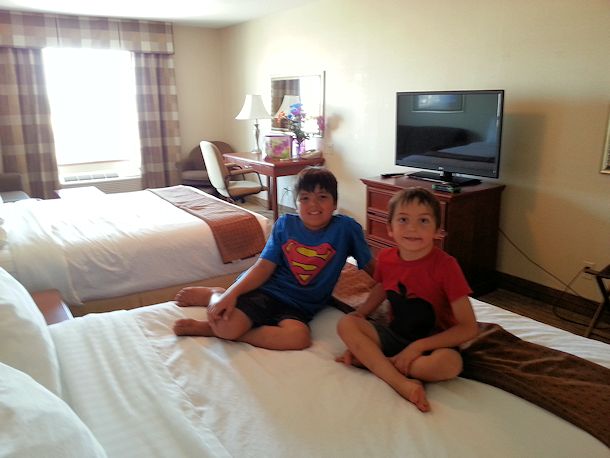 We checked in quickly and headed upstairs to check out the room. Zackary and Benjamin were thrilled about having their own beds, and equally excited about the fresh fruit and gift basket the hotel had prepared for us. After a quick break to unpack, we were ready to check out the hotel's many amenities.
When it comes to family friendly choices, Holiday Inn really does offer it all. The swimming pool was luxuriously warm, making my boys all too eager to get into the water. And because my youngest wasn't tall enough to stand in the pool on his own, I appreciated the fact that the hotel supplied life jackets and floating devices for younger swimmers. But just because the pool was perfect for kids doesn't mean grown-ups couldn't have fun too! The waterslide was a hit with the whole family!
Once the boys were in bed watching a movie that night, my significant other and I popped downstairs for a quick drink in the attached bar, Modavos. I loved the fact that the lounge was located right in the hotel so we could unwind with a beverage and some adult conversation.
After a relaxing night in our spacious suite, we decided to have breakfast at Perkins Restaurant & Bakery, the restaurant attached to the hotel. I stopped at the front desk and grabbed a Kids Eat Free coupon for the boys before we headed over. We sat down to order and I was blown away by the selection and the extensive Kid's Menu! My oldest chose Rainbow Sprinkle pancakes with bacon, while my youngest decided to get creative with breakfast and have Macaroni and Cheese. Both boys received free juice with their meal and two free cookies for dessert too. Talk about a great deal!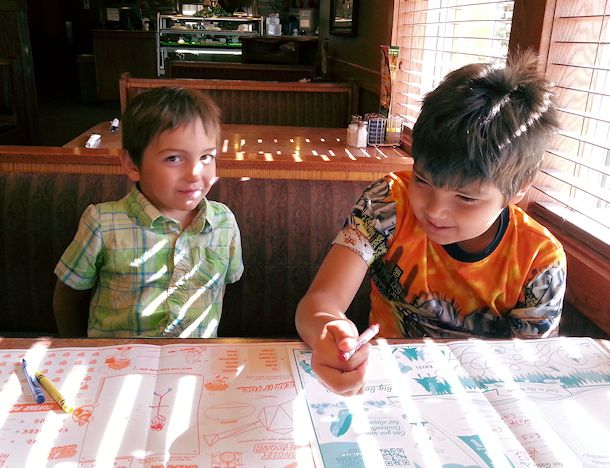 We spent the next few days exploring the city of Regina and because the hotel had such a convenient location, we were able to do plenty of exploring. I loved knowing that we had a cozy home base at the end of the day, and because the suite had a fridge and a microwave, we were able to eat lunch right in the room after a busy morning of sight-seeing. Being able to relax after a busy few hours helped my boys enjoy their staycation even more and helped me to keep my energy up!
If you've been longing to add a little extra fun to your summer, IHG is here to help! The company is very generously offering one lucky Mommy Kat and Kids reader a weekend stay at any IHG hotel of their choice, awarded in the form of 70,000 IHG Rewards Club points! To enter to win, just leave a blog comment about which city you'd spend a few days exploring if you won.
The entire family was impressed with our experience at the Holiday Inn Hotel & Suites in Regina and considering how many of its great features are standards for the Holiday Inn brand, I'll definitely be checking out IHG hotels on our next vacation. With great on-site restaurants, free high-speed Internet and bonus amenities including fitness centres, pools and waterslides, a Holiday Inn hotel is a hotel the whole family will love. Best of all, the IHG Reward Points I earn with every stay let me eventually treat my family to an extra fun getaway in the future! Check out the IHG hotels near you and treat yourself and your kids to their own staycation this summer.
IHG Giveaway