When I was a child, my mom was known for throwing the best birthday parties. Some parents rented rooms at a hotel with a waterslide so that kids could swim. Others would take a group of kids to McDonald's for one of their special birthday celebrations.
I have to admit that I had a blast at those parties, but none could compare to the parties my mom planned and threw for us each year. Every party was at home and featured food and games my mom had made and planned herself, but the originality is exactly what made them so much fun.
Now that I have kids of my own, I've taken a page from my mother's book…and maybe even gone a step further! Planning that perfect party is a chance to test my creativity and create something special for my boys, and seeing their smiles after all the fun has come together makes the effort worthwhile. I also enjoy the fact that by creating my own themed parties, I generally save money too!
Having thrown a few themed birthday parties over the years, I've come up with some techniques to make the process easier. One of my favourite special touches is creating themed sugar cookies. These have become a tradition at birthday parties and are always a hit with kids and adults alike. And the secret is in the icing.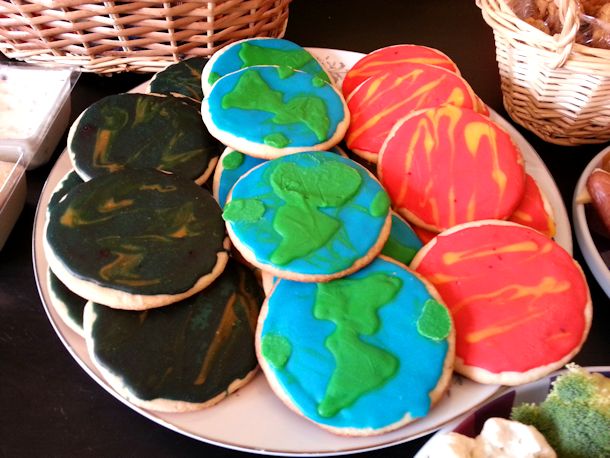 I've never liked Royal Icing for decorating cookies because it dries to such a hard, crunchy finish. I prefer a sugar cookie frosting that's creamy and melts in the mouth, yet still dries fully enough so that the cookies can be stacked. After a lot of trial and error, I eventually found exactly what I was looking for.
The cookies can be decorated in a variety of ways with this cookie icing, though making sure each colour is dry before the next is layered on is a must. For a swirled design, two colours can be mixed and then combined using the end of a small spoon or a toothpick while the icing is still wet.
The rest of the party might be as simple or as complex as I see fit, but creativity is always key. Sometimes games are as simple as jumping on the trampoline. For other parties, I might build race cars out of boxes or shoot water bottle rockets into the sky.
For some parties I'll find cute themed toys at the dollar store to fill treat bags. Or I might create my own DIY personalized medals or custom hats for the kids that attend. But no matter what ideas come to fruition, the kids always have a great time!
There are all kinds of ways to celebrate birthdays, from simple celebrations at home to elaborate parties at a special location. But no matter what type of party is your favourite, spending time with friends and family is what truly makes a birthday special. And serving cookies decorated with this amazing sugar cookie frosting will have all your friends and family smiling!
Looking for some party planning inspiration? Check out my DIY Super Mario Bros. birthday party ideas or these Fortnite birthday party ideas for inspiration!
Best Ever Sugar Cookie Frosting
Total Time:
1 hour
5 minutes
This icing makes decorating cookies so easy, and instead of drying to a rock-hard finish, it stays soft, but firms up enough for stacking and storing!
Ingredients
1 cup confectioners' sugar
2 teaspoons milk
2 teaspoons light corn syrup
1/4 teaspoon vanilla extract
1/4 teaspoon butter flavouring
Instructions
In a small bowl, stir together confectioners' sugar and milk until smooth.
Beat in corn syrup and extracts until icing is smooth and glossy. If icing is too thick, add more corn syrup.
Divide icing into separate bowls and colour using food colouring. Paint and/or pipe icing onto cookies to decorate as desired. Let dry fully before stacking or storing.
Notes
Makes enough for approximately 12 large sugar cookies.
Nutrition Information:
Yield:

12
Serving Size:

1 Servings
Amount Per Serving:
Calories:

40
Total Fat:

0g
Saturated Fat:

0g
Trans Fat:

0g
Unsaturated Fat:

0g
Cholesterol:

0mg
Sodium:

2mg
Carbohydrates:

10g
Fiber:

0g
Sugar:

10g
Protein:

0g